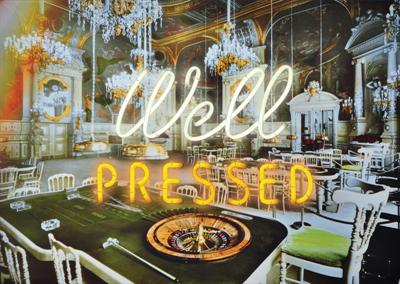 Image:'Well Pressed (Edition 1 of 5 + 2 APs)', 2011 Cibachrome print with neon
14 January – 15 February 2011
Rob and Nick Carter are delighted to present an exhibition of new work, 'Postcards From Vegas' at FAS Contemporary at The Fine Art Society, London.
Drawing on their personal collection of postcards sourced throughout childhood, strikingly combined with their shared passion for raw neon, Rob and Nick Carter have created fourteen new pieces marrying postcards from the 60s and 70s with neon signs of the type originally found on locations such as casinos, diners, ice cream parlours and motels. The result is a new body of work that delivers an intriguing play
on place and mood.
"We've always been fascinated by the gaudy lurid neon signs of Las Vegas, and loved the idea of juxtaposing these with the 'readymade' postcards to create different and surprising connotations. The scale of neon has been reduced, while the postcards haveb een enlarged up to 150 times their original size.
The series creates a jarring between not only the two forms of advertising, but also the flat photographic surface and the more sculptural neon form. We hope the viewer will create their own narrative and direct response to the work" comment Rob and Nick Carter.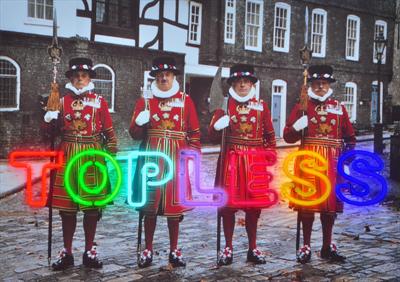 Image:'Topless (Edition 1 of 5 + 2 APs)', 2011 Cibachrome print with neon
The process behind each piece of artwork is complex. A 10×8" transparency is made from a detailed scan of the original 4×6" postcard. A hand print is then created onto Cibachrome paper, which in turn is mounted onto aluminium. The neon is then hand bent, closely following the original vintage neons, both in terms of form and colour, and overlaid onto the postcard. All the neon transformers and cabling are neatly housed at the rear of the artwork, and the viewer can control the brightness of the neon too.
Rob and Nick have been working with neon since 2003 and have been commissioned to undertake several large scale neon installations including 23 Savile Row for D2 Private, 200 Aldersgate for Helical Bar, and Cardinal Place for Land Securities. And in December 2008, Upper Street in Islington was illuminated by the first ever billboard neon art installation 'Read Colours Not Words' commissioned by London Art Fair and created by the Carters in association with The Fine Art Society.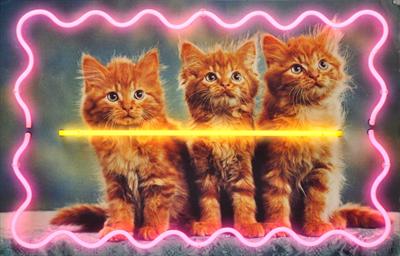 Image:'Pussies (Edition 1 of 5 + 2 APs)', 2011 Cibachrome print with neon
Rob and Nick are colourists working in the mediums of photography, painting and sculpture, are married and live and work in London. Their work has recently become part of the V&A's Collection of Cameraless Photography and is on display in the Permanent Collection's gallery, running concurrently with the 'Shadow Catchers' exhibition, October 2010–February 2011. They have had two solo shows at The Museum of Neon Art in LA and have shown internationally, including at the Cat Street Gallery in Hong Kong in summer 2010, as well as New York, Zurich, Geneva, Milan and London.
'Postcards from Vegas' opens on the 14th January and runs until the 15th February 2011, FAS Contemporary at the Fine Art Society
www.faslondon.com/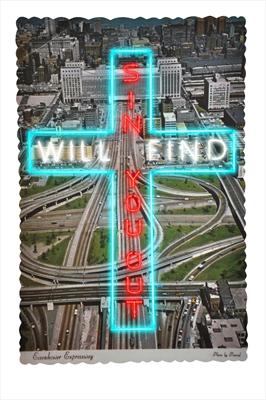 Image:Sin Will Find You Out (Edition 1 of 5 + 2 APs)', 2011
Cibachrome print with neon
Categories
Tags