13 January – 20 February 2011
Clare Chapman, Wayne Chisnall, Chinwook Kim, Ann-Marie James, Malgosia Stepnik, LG White and Guillermo de Zamacona
Scream Gallery is pleased to present an exhibition of young and emerging British and international artists, who have a common desire to explore and create alternative realities. They transport you on a dream-like journey to another time or place, with inspiration drawn from fairy-tales, surrealism, nature, the human body and childhood.
Clare Chapman's hyper-real oils on canvas are both disturbing and intriguing in their depiction of ambiguous forms and obscure terrain.
The paintings draw on a rich tradition of painting from Rembrandt and Rubens, to Bellmer and Bacon. Chapman creates amorphous still-life's that question our perception of reality, beautifully rendered in vivid sunset tones. David Foster describes her paintings as 'the dragon's
teeth…presented to you on a velvet cushion'.

Image:Wayne Chisnall 'Book Tower II' (alternate view')
Wayne Chisnall is a London based artist whose sculptural work involves the reworking and assemblage of found objects/materials. He uses materials with a certain 'resonance'. He will exhibit Book Tower II, a sculpture created using a jenga-like construction of books, and Magnet, a high-rise of colorful kids toys, which takes the tradition of Duchamp's readymades into the 21st Century, and injects a contemporary Pop aesthetic. Much of Chisnall's work centres on the theme of memory or its fallibility. This is more strongly evident in his pieces that incorporate or recreate childhood artefacts and toys. Another re-occurring theme or motif in his work is that of the wheeled
box or tower, which represents containment, the urge to possess and restricted mobility.
London-based artist Ann-Marie James graduated from Chelsea College of Art and Design this year with a postgraduate diploma in Fine Art. James will exhibit Boner (2009) and Digital (2009), both drawings from a series that rework biological drawings from anatomy books such as Gray's Anatomy. James prefers to use biro pen to obtain the precision and measurement necessary to recreate skulls and bones. She gives the anatomy her own gothic twist, creating mythological-looking skeletons from identifiable body parts.
Chinwook Kim's surreal imagery evokes Aubrey Beardsley and communicates a deep understanding of Oriental painting, where the use of lines signifies dexterity and the completeness of personality. Chinwook studied traditional Asian painting in Korea, and graduated this summer with an MFA Painting from Slade School of Fine Art. To create 'Inside and Outside of Landscape', he skilfully applied Chinese ink to paper, creating a synergy of organic and human form in a surreal re-imagining of nature. Chinwook explains; "The lines rendered without modification depict the core of things, often evoking vitality and tension. A conceived structure should be thus in mind before drawing lines in Oriental painting. The images rendered through articulate lines are deformed and deconstructed for an entire structure."
Malgosia Stepnik uses acrylic on cotton paper to create her ethereal images, surrounding them with LED illuminated frames to highlight their delicate nature. She (2010) features familiar organic forms, with an earthy palette. The spotted forms featured in She recall the polka-dot paintings of Japanese artist Yayoi Kusama, whilst the elongated shapes bring to mind oddly coloured leopard-skin rugs, or fungal spores
under a microscope.
LG White will exhibit a mechanical pencil and ink drawing Inside a Bubble. White describes the work as where John Milton's Paradise Lost meet Buckminster Fuller. White's drawing takes its inspiration from Milton's epic poem about the Fall of Man, a Gustave Dore print, and Fuller's Dymaxion car and geodesic dome. Her drawing presents a parallel universe, based on Fuller's notion of 'Spaceship Earth', an unprecedented state of all-inclusive Utopia. Fuller was concerned about sustainability and human survival under the existing socio-economic system, whilst remaining optimistic about the future of the human face.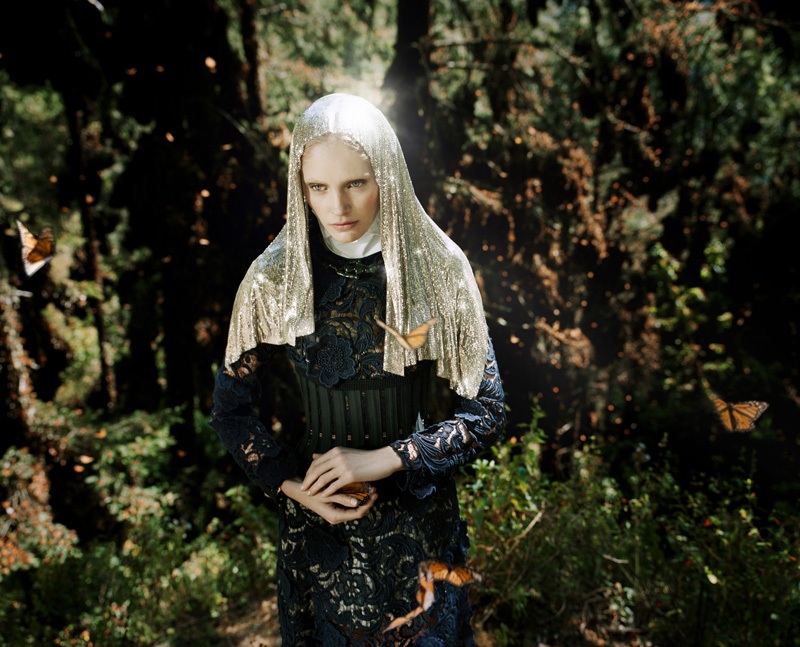 Image:Guillermo de Zamacona
Guillermo de Zamacona honed his directorial and producing abilities at the University of Southern California during the late 1990s, going on to earn a degree in photography from the School of Visual Arts in New York City. De Zamacona will exhibit two images from his 'Project Monarch' exhibition, which was launched in New York at Manhattan's
'Milk' gallery this April. The launch fell on Earth Day, a fitting date for its unveiling, since it featured the endangered Monarch butterflies of the Mexican mountains. By mixing high fashion with nature, he drew attention to the plight of these ethereal creatures, and during the shoot discovered that the people living at the foot of the mountain were without electricity or running water. De Zamacona decided to donate a portion of proceeds from the sale of the photographs to the villagers, so they could fit solar panels in their homes. Long-limbed women float in mid-air, suspended in time between the Oyamel fir trees, surrounded by a host of butterflies. The exhibition moved to Mexico City's Fizz gallery in September, where it was a sell-out.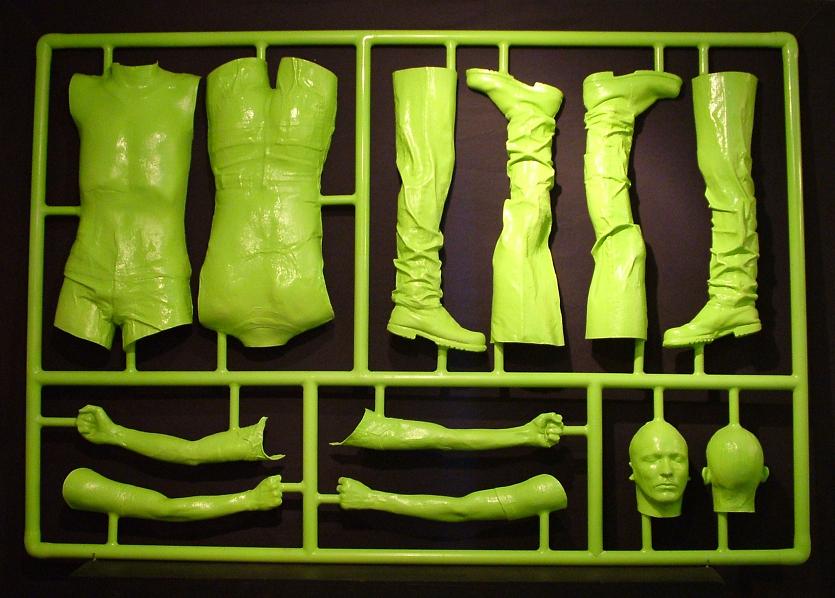 Image: Wayne Chisnall And When I'm a Man
Categories
Tags