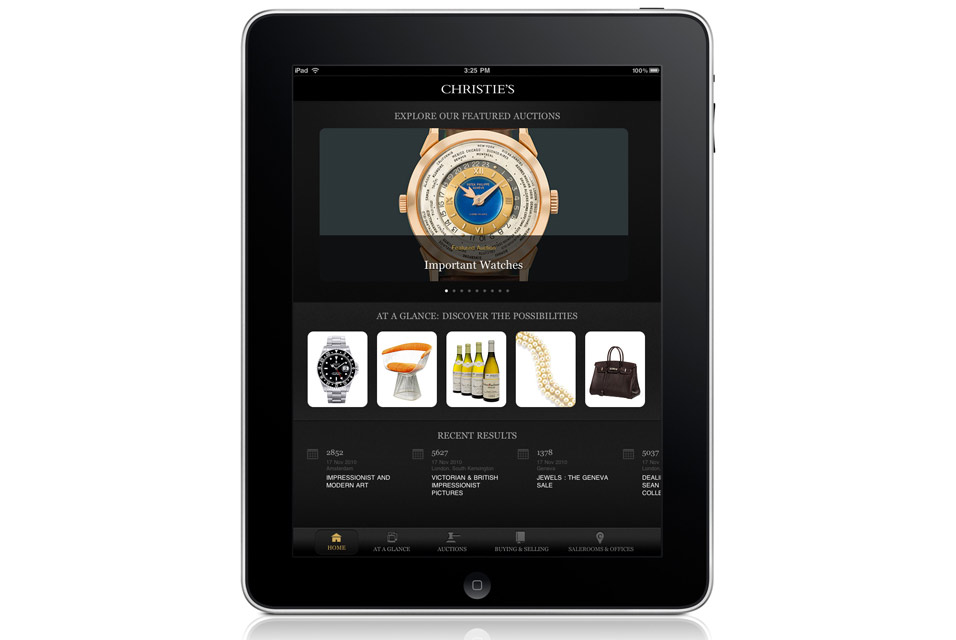 Image:The roll-out of the iPad App completes a trifecta of new mobile initiatives first undertaken by Christie's in July of 2009. Photo: Christie's Images Ltd 2010
Christie's has announced the availability of its new, free App designed specifically for users of the Apple iPad. With special features and functions that are optimized for the iPad's rich interface, the new App takes users on a tour of Christie's upcoming auctions and enables "at a glance" browsing of hundreds of luxury items and objects to be sold in the company's salerooms worldwide, including fine art, rare wines, luxury handbags, jewelry, watches, antiques, modern design, and more.
The roll-out of the iPad App completes a trifecta of new mobile initiatives first undertaken by Christie's in July of 2009 with the launch of Christie's popular App for the iPhone and iTouch devices. This first App was followed in June of 2010 with the launch of an optimized mobile web site that is compatible with all smartphones and mobile devices, regardless of manufacturer.
Michael O'Neal, Director of Digital Media at Christie's, comments: "By taking advantage of the iPad's immersive and visually-rich platform, a whole new community of shoppers who may not be familiar with buying at auction can discover the diverse selection of offerings available at Christie's this holiday season and beyond. Whether your interest is in fine watches, contemporary art, or rare wines, the App provides iPad users with an elegant mobile interface to browse among the thousands of fascinating items offered at Christie's auctions worldwide."
The free App for iPad is available in the iTunes App Store, or by visiting Christie's Website. With the Christie's App, buyers and sellers around the world can browse hundreds of collectible items with Christie's "At A Glance" function, including the popular luxury categories of fine art, watches, wine, jewelry, handbags, and home decor.
Among the major international auction houses, Christie's has led the market in digital and online innovation and services, and the optimized App for the iPad is the latest example of the company's continuing commitment to providing best-in-class digital services to enrich the client experience. In addition to its mobile offerings, Christie's remains the only international fine art auction house to offer online bidding capability in all of its sale categories worldwide, via Christie's LIVE™, a real-time multi-media bidding application. The online channel now accounts for one-fifth of Christie's sale registrants and registrations, and one-quarter of the company's bidders. At the close of November 2010, the dollar value of lots sold online exceeded $88.9 million for the year.
Categories
Tags