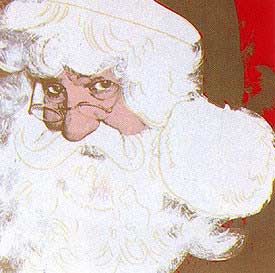 Image:Copyright Andy Warhol Foundation Courtesy Scream Gallery
10 December 2010 – 9 January 2011
Scream Gallery presents a Christmas exhibition with a seasonal sprinkling of diamond dust featuring; Peter Blake, Gavin Turk, James Unsworth, Andy Warhol and Russell Young.
'Diamonds are Forever' features some of the most memorable images and iconic figures of recent history, captured Ad Infinitum as silkscreen prints.
The exhibition features the Love series produced by The Godfather of British Pop Art, Peter Blake, who shot to fame in the 1960's as a figurehead of Pop Art in the UK, and the creator of the iconic album cover for The Beatle's Sgt. Pepper's Lonely Hearts Club Band in 1967.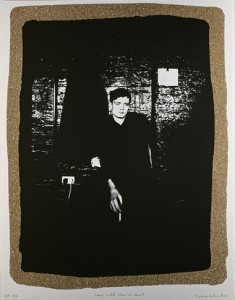 Image:Copyright Peter Blake Courtesy Scream Gallery
Scream will exhibit silkscreen prints with diamond dust from Blake's 2005
Love series, inspired by songs of amour by music legends including Frank Sinatra (I Love Paris), Joy Division (Love will tear us apart), and The Beatles (P.S. I Love You).
Blake's American Nemesis Andy Warhol, created a collection of screen prints featuring faces from contemporary transatlantic mythology. Warhol's 1981 silkscreen Santa with diamond dust provides a little Christmas cheer. Santa is taken from Warhol's Myths Series, his sought after collection of legendary figures familiar from favourite comic books, literature and folklore. Warhol depicted the bearded, bespectacled face of Father Christmas, along with characters such as The Wicked Witch from The Wizard of Oz, Mickey Mouse and Uncle Sam.
YBA Gavin Turk's 2004 series Faces is a contemporary take on Warhol's legacy. Each celebrity immortalized in a Warhol screen print was bathed in a sprinkling of stardust.
However, when Warhol's rival Joseph Beuys received the silkscreen treatment, the smattering of diamond dust was an ironic way of undermining the intellect of Beuys's art.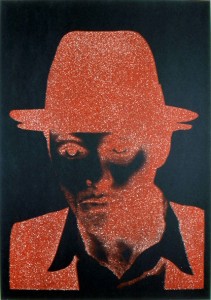 Image:Copyright Gavin Turk Courtesy Scream Gallery
In Red Beuys, Turk takes the process one step further, by replacing the face of Beuys with his own. Gavara Reversed presents Turk's visage transplanted onto the iconic face of Che Guevera, a progression of his 2000 waxwork of Turk as the Cuban revolutionary.
Emerging artist and Royal College of Art graduate, James Unsworth, will exhibit two new screen prints exploring the duality of destruction and beauty. Unsworth finds beauty in the macabre, highlighting the iconic imagery of destruction with diamond dust, itself a beautiful by-product of a shattered entity. Atomic shows the mushroom-cloud over Nagasaki in Japan in 1945.
Atomic is an instantly recognisable image of the nuclear weapon nicknamed Fat Man, detonated by the United States over Japan in a bid to end World War II. It is an ominous reminder of the power of scientific advancement for good and evil, since this unprecedented harnessing of energy bought an end to the Pacific War and WWII, but at the cost of more than 60,000 lives terminated by the atomic bomb.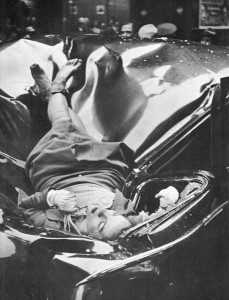 Image:'Evelyn McHalesmall' by James Unsworth Courtesy Scream Gallery
The Most Beautiful Suicide depicts the exquisite corpse of 23-year old Evelyn McHale, who tragically jumped to her death from the 86th floor of the Empire State Building in 1947. At first the viewer is dazzled by the allure of the diamond dust surface, but on closer inspection the power and violence of the event reveals itself. On the surface we see a scene reminiscent of a Hollywood movie still, with a core of tragedy.
I'm interested in the strange psychological space we inhabit when confronted by these conflicting emotions. Darkness and Light (perhaps referenced in the illusion of the dot matrix pattern of the screen print half-tone). James Unsworth
www.screamlondon.com
jamesunsworth.com
Categories
Tags