Two new shows in Lisbon show artists tackling the house. One is an inside job- it's called Interiores, with works by five contemporary Portuguese artists. The other has gathered an international selection of major works bridging the 1960s and now, and fills the national museum of contemporary art, the Museu de Chiado. It's a central part of the Lisbon Architecture Triennale, which runs with the banner 'Let's Talk About Houses'. Let's talk about that one first.
If the big show had just been about houses, it would be this year's second great exhibition on that theme, after the Barbican's seminal Surreal House in London this summer. But the show's title, When Art Speaks Architecture, goes wider. In fact, it's really about twentieth century Modernist architecture more than anything else, so that even in very recent works, there is no artistic dialogue with more recent post-modernist or high-tech architecture, or this century's parametric trophy buildings. Nor are there the sort of challenges to architectural space that say Rachel Whiteread or Miroslaw Balka deliver. That makes the show's scope rather conservative, but it's still one hell of a survey of artists taking on architecture, mainly in sculpture and photography.
Modernism's most influential architects were le Corbusier and Mies van der Rohe, and even now, artists still engage with them. The first work you encounter is Random Walk (2005), a wooden walk-through garden rooftop by perhaps Portugal's top artist Angela Ferreira, based on le Corbusier's 1929 Villa Savoy, outside Paris. Le Corbusier may have invented the rigid housing blocks of the sink estate, but his own domestic designs, whether villas or social housing, were characterised by curving forms and patio/gardens on their roofs. Not so Mies van der Rohe, who pushed the art of pure rectlinearity. His Barcelona Pavilion, built the same year as the Villa Savoy, is the subject of Fernando Brito's Modern Paradigmatic Building at a Scale of 1:25 (1999-2010)- not only does he reproduce the long-gone building in a mirror-surfaced model, and suspend it from the ceiling, he provides a chair from which top contemplate it (see picture). It's a mesmerising work and seems to be saying, behold Modernism, so perfect that it floats in a conceptual space of pure Cartesian rationalism!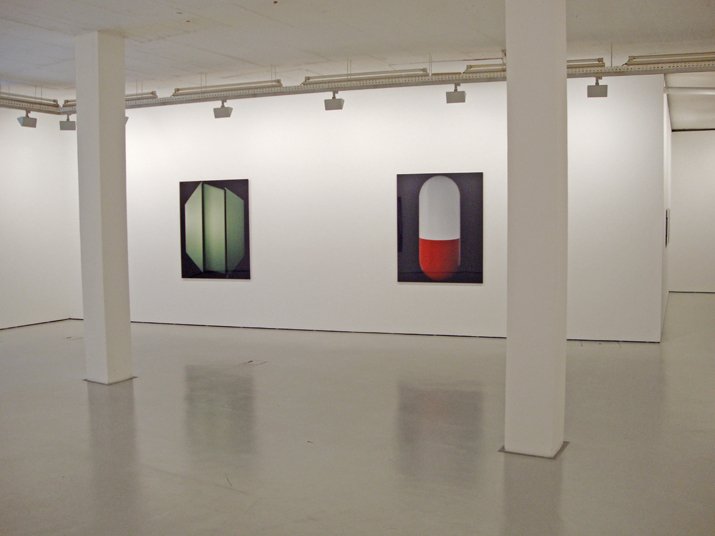 There is more obsession with Modernism's straight lines. Amongst the best are Fernando Fragateiro's new and untitled strip of boxes that stretch across a wall, inspired by plans for a housing project, and José Bechara's Casa Amorosa (2008), which deconstructs modernism into cubes and ramps. Not all modelled structures are so earnest- in Subterranean Museum (2005), Mark Dion has a vernacular American house decked with signage about the treats below, and yes, you can see them exposed in a cut through the plinth below. Ooh, pipes, a railway, rock strata, and even the bones of something big and pre-historic, maybe a dinosaur!
When we get back to the 60s, we're in for more surprises. Conceptual German-American artist Hans Haacke's Grosse Wasserwaage (1964) is a suspended clear tube with water a metre long, an impossible water-level that looks magical. It gets to the bottom of architecture's aspirations: big, but it needs to be on the level or it's a non-starter.
The photography, too, in this show is outstanding. Dan Graham is instantly recognisable in his aluminium/glass prism sculpture Moon Windows (1989), but behind it are his 60s snaps of New Jersey housing, rows of safe suburban houses that remind us that Modernism didn't have a monopoly on repetition, or system-building construction for that matter. Next to them are Ed Ruscha's Filthy McNasty series of photos (1966-69) taken along Sunset Strip, signage overwhelming buildings, with vertical scratch lines added to the prints. It's as if the scratchy lines are a negation of Modernism's clean lines.
Over in the chic Christina Guerra gallery across town, the mood and contents of the Interiores show are ultra-crisp and clean. The artists' subjects are all interiors by architect Pedro Gadanho, who has curated the show. Fernando Guerra's photos make rooms look like brightly-coloured, angled plastic sculptures, while Edgar Martin's images have taken interior features and abstracted them against his trademark black background (see picture) to the point where a loo looks like a capsule pill. These photos suggest that there must be high-tech microchip factories that are less clean than Gadanho's interiors. I asked him if there was a reference to architects' sterile computer-generated images- no, but he says the works are 'reflections on the relationships of architecture and its visual representation'. The perspectives in this show are startling and experimental and definitely not classical Modernism.
Back in the Museu de Chiado, a work that's not even part of the architectural Triennale probably says the most. It's a mural by Angela Ferreira called A Scale and it looks like a metro line map connecting stations called 1850, 1875, 1925 and 1950, as if from an ultra-Orwellian 1984 state where place names have been replaced with numbers. It's about the periods of art in the museum's collection, but it could just as easily be about the de-localisation and de-humanisation in Modernist architecture, and most of what's followed.
Let's Talk About Houses: When Art Speaks Architecture
Until 21 November
Museu do Chiado
Rua Serpa Pinto 4
1200-444 Lisbon
www.museudochiado-ipmuseus.pt/
Interiores
Until 20 November at Christina Guerra Contemporary Art
Rua de Santo Antonio a Estrela 33
Lisbon 1350-291
www.cristinaguerra.com
Lisbon Architecture Triennale
www.trienaldelisboa.com
Categories
Tags