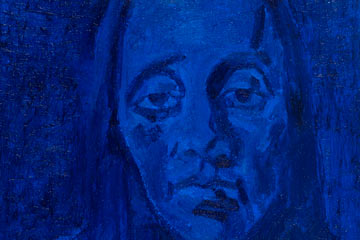 Front Page Image:Detail of 'Spectrum Jesus' by Keith Coventry, the winner of the John Moores Painting Prize 2010.
Keith Coventry is the winner of the prestigious 2010 John Moores Painting Prize. His winning painting Spectrum Jesus is currently hanging at the Walker Art Gallery in Liverpool.
To celebrate his achievement, Haunch of Venison here presents eleven works from Coventry's Repressionism series, of which the Spectrum Jesus sequence is a part. The display includes seven paintings of Christ, which form a nominal rainbow.
The paintings are based on a Vermeer forgery by Hans van Meegeren and each is rendered in a different colour. In these works Coventry has adopted the style of the German Expressionist Emil Nolde, though he says, "as I couldn't muster up that kind of spiritual look, I decided against expressionism, to go for an idea that I have called 'repressionism', meaning that, as I worked on each of the canvases, bringing the tones closer together, eventually all the expressivenesss of each one would be completely wiped out, leaving little except the texture of the paint".
The Spectrum Jesus display includes paintings showing different formal interpretations of two Biblical scenes – The Last Supper and Christ and the Adulteress – which were also painted by van Meegeren. Each scene has been painted twice; once in saturated monochromatic colours, and once again using a bleached pastel palette.
Images:
The Last Supper (from the series Repressionism, full colour)
2009 Oil on canvas, wood and glass 83.8 x 139.7cm, 33 x 55 inches
Spectrum Jesus 2009 Oil on canvas, wood and glass 68.6 x 58.4cm, 27 x 23 inches
Spectrum Jesus 2009 Oil on canvas, wood and glass 68.6 x 58.4cm, 27 x 23 inches
Categories
Tags