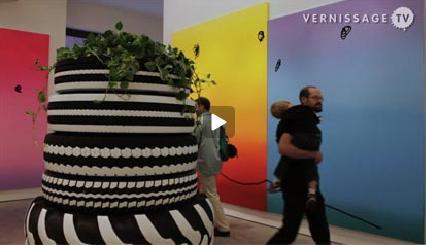 In a major exhibition that occupies the newly expanded galleries of Gavin Brown's Enterprise as well as the neighboring gallery Maccarone, American artist Rob Pruitt presents new works under the title "Pattern and Degradation".
On display are several new bodies of greatly varied work: a series of paintings based on Amish quilts; a series of silk-screened paintings of t-shirts; sculptures made out of stacks of flattened cardboard with enormous eyes; large-scale pattern paintings featuring panda bears; a wall with photos of cats that look like Hitler.
"Rob Pruitt's exhibition Pattern and Degradation takes inspiration from the Amish tradition of Rumspringa, a Pennsylvania German term that directly translates to "running around." During the Rumspringa, Amish adolescents are given the chance to temporarily explore the outside world before choosing to either return to the Amish lifestyle and be baptized, or leave their community forever. Folklore holds that this is a period when Amish youth engage in rebellious behavior, defying their culture's strict prohibitions, and indulging in the excesses of mainstream American culture.
In Pruitt's interpretation he is forever living a "Permanent Rumspringa" and filling an entire city block with the exploits. For Pruitt, this is the position of the artist: an unbridled human, indifferent to convention and with every avenue open to him – each possibility equal to all others."
Rob Pruitt was born in 1964 in Washington, D.C. He lives and works in New York. Pruitt has been exhibiting work internationally for the past 25 years. His work has been shown in shows such as "Pop Life" (Tate Modern, 2010); "Mapping the Studio" (Palazzo Grassi, 2009), and "The Gold Standard" (PS1 Contemporary Art Center, 2006).
Rob Pruitt: Pattern and Degradation at Gavin Brown's Enterprise and Maccarone, New York. Opening reception, September 11, 2010. With a special appearance by James Kalm.
Categories
Tags