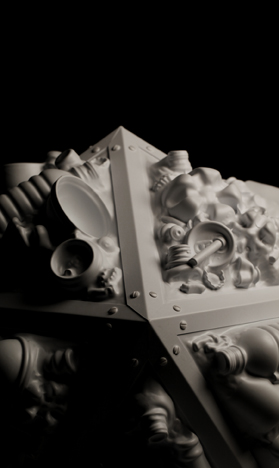 Image: Matt Eskuche Agristocracy (detail), 2010 Plastic and incandescent light Photography: Alexander Evans
The Racine Art Museum commissioned internationally recognized glass artist Matt Eskuche to create a new exhibition for its Windows on Fifth Gallery.
Matt Eskuche: my attraction to consumptive waste and it's former life as a corporately advertised product seems eternal… from the 90's graphic design of a paper cup that boasts "I am absolutely average!", to the loud wrappings of the candy and sodas that beg for your attention from the convenience store aisles, their life cycles keep me grossly intrigued.
in this exhibition i collected items from our daily stream of food and beverage packaging waste and used their form, line, colour, and shear prolificness as a catalyst to create high end design within an interior space.
the content of the work might exaggerate a minute detail on a fountain drink lid for large scale sculpture, or utilize the formal aspects of a french fry container to generate a colour field painting. in the end, i am hoping to conceal consumer wastes' quiet indifference to our peoples and environments behind the proud podium of art and design.
For his Windows at RAM installation, Eskuche has expanded the scale and scope of his work – not only assembling the most grandiose tableaux of his trash glass yet, he is also exaggerating details of individual objects and turning them into large-scale compositions of paint, plastic, and light. With this new element of his work, Eskuche challenges how we understand the role of "consumer waste" in our lives-finding beauty in unexpected places and encouraging us to consider the complex web that links preciousness, luxury, consumption, politics, and the environment.
About Mark Westall