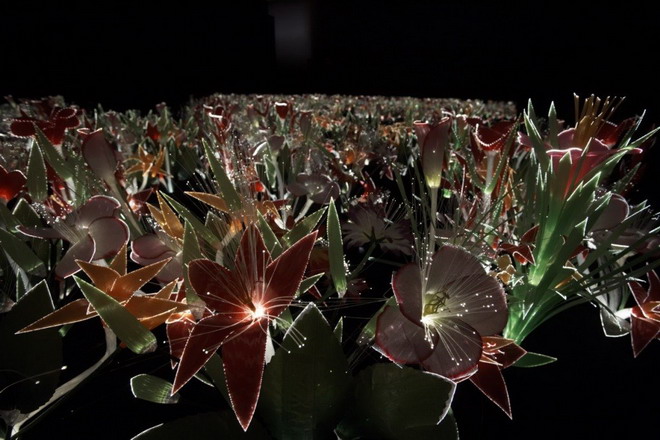 Image: Joana Vasconcelos Garden of Eden 2008 Plastic flowers, synchronous micromotors, compact fluorescent lamps, discs in transparent polychrome acrylic, electrical system, Lycra, PVC, MDF
variable dimensions, module 40 cm heightHV33473© Joana Vasconcelos 2010
The pre-eminent Portuguese artist of her generation Vasconcelos came to public attention for her display at the Venice Biennale in 2005. Her stunning sculpture 'A Noiva' (The Bride) took the form of a chandelier made from around 25,000 tampons and greeted visitors to the Arsenale. Typical of her witty and often provocative work, these unglamorous objects belie the sculpture?s grand structure.
I Will Survive – taken from the tune made popular by Gloria Gaynor in 1978 – transports us to a world of embroidery and crochet, sex and simulacra. Of particular interest is the way in which contemporary technological and ethical ?advancements? challenge traditional ideas surrounding identity. Finding her inspiration in the popular imagination and examining various themes of daily life, Vasconcelos focuses on the politics of gender, national identity and class.
Following the principles of the 1960s art movement Nouveau Reálisme and acknowledging a debt to the readymades of Marcel Duchamp, Vasconcelos? work frequently incorporates objects from daily life into expansive assemblages.
A key aesthetic component of the exhibition is recognition or association and many of the works appropriate ceramic objects commonly found in Portuguese homes ? as ironic status symbols or as substitutes for the real thing. In Mago (2009) a cat is wrapped in an elaborate coat of white crochet, while in Ariel (2009) a large ceramic lobster is covered in black crochet. The use of crochet alludes to an activity usually associated with women and traditional crafts but in these ingenious manipulations it is such perceptions rather than the activity itself which are rendered obsolete.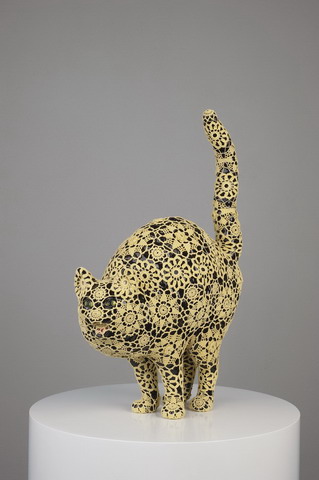 Joana Vasconcelos Mago (Cat) 2009 Rafael Bordalo Pinheiro painted faience with glazed, hand-made cotton crochet © Joana Vasconcelos 2010
Explorations of nationality and womanhood are fundamental to Vasconcelos? practice. Esposas (Wives/Handcuffs) (2005) is part-sculpture, part-photographic print and is concerned with the binding nature of matrimony. In the sculpture, three female foam mannequins sit on the floor with their legs spread, holding the hands of three male mannequins seemingly vying for escape. The black plastic spikes that are strapped to the mannequins, and to the large, bikini-clad woman shown in the photograph on the wall behind, are part-bondage-erotica, part-weapon. This ambiguity is suggested by the Spanish title: ?esposas? refers to a married woman but also to handcuffs, thus insinuating both the ideology and the trappings of being contracted in a relationship.
Offering a different complexion to the exhibition is Garden of Eden (2010), which Vasconcelos created specifically for I Will Survive. The installation will take up an entire room and consists of cylinders containing artificial flowers filled with lights which activate a glow similar to that produced by fibre-optics, to create a colorful garden landscape. Visitors are invited to wander through this completely artificial and multi-sensory garden, which combines prettiness with something chilling. An ambitious piece, it explores the relationship between art, nature and technology and questions our vision of paradise or utopia in the future. (see image above)
Victoria (2008) is a hybrid of wasp, snake and woman, its absorbing blackness luring one into its ornate and highly tactile surfaces. The work is crafted from a combination of pre-existing materials and mass-produced objects, along with other hand-made crochet and knitted fabrics ? buttons, rivets, eyelets, rhinestones, beads, frills, ruffles, pompoms, brocade, damask, jacquard, and sequinned ribbons. Inspired by the style of Queen Victoria, who influenced fashion and culture during her 63-year reign, Vasconcelos has created a fanciful sculptural installation that morphs between monster and muse.
Vasconcelos? occupations are consistent but her approach is exhilaratingly open-ended. I Will Survive explores the nature of reality in an age where so many of our ideas and means of communication have been radically modified. The notion of artifice is at the heart of this: flowers are plastic, dogs are ceramic, people are foam. Rather than lament the ruination of beauty, Vasconcelos revels in the apparently unfettered freedom contemporary culture can provide.
Categories
Tags