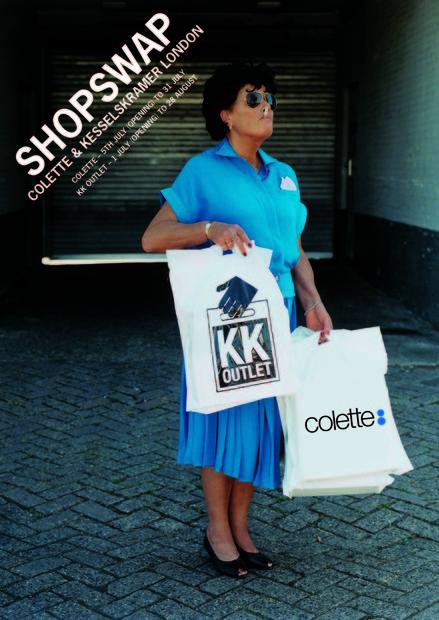 Throughout the summer KesselsKramer London and the legendary Parisian store colette will undertake an exclusive shop swap. colette will holiday on Hoxton Square, bringing with them hand picked products and artwork of some very special French friends.
In return KesselsKramer will take over colette with unique art work specially created for the collaboration by Erik Kessels, along with a range of our best titles and products.
COLETTE ARTISTS AT KK OUTLET
We're very happy to welcome a collection of amazing artists to KK Outlet including graffiti artist Monsieur Andre, illustrator Darcel and the beautiful work of painter Irina Dakeva…
Monsieur Andre is the infamous French graffiti artist well known for his distinctive stick-figure character Mr A which he paints on walls as well as naked women. He is also renowned for his le Baron club nights, his Love Hotel in Paris and marriage to Uffie. The work at KK Outlet will be a collection from his recent colette show including customised surf boards and limited edition silkscreens.
Darcel is the alter ego of Rinsen collective member Craig Redman. His illustrated blog, Darcel Disappoints, chronicles one disappointing moment after another as the protagonist navigates his way through everyday life in downtown New York. Work from this blog will make up his show at KK Outlet included a large figreglass Darcel!
Irina Dakeva produces impossibly beautiful water colours. Her work was recently featured in the new Breakbot video, Baby I'm Yours, out on Ed Banger records. We will be screening the video alongside Dakeva's original water colours.
COLETTE PRODUCTS AT KK OUTLET
colette have hand picked a special range of products to bring to London including nigh on impossible to find book titles, the latest music releases, customised surf boards, the coolest fold up bike ever created and products you never knew you needed never mind wanted.
We have also produced a collection of collaborative products including "divided loyalty" scarves that allow you support both KK and colette and a yes/no cube that makes navigating relationships easier.
details
London Dates
Private View: Thursday 1 July
Shop Swap: 2 July – 28 August
Paris Dates
Private View: Monday 5 July
Shop Swap: 6- 31 July
Categories
Tags