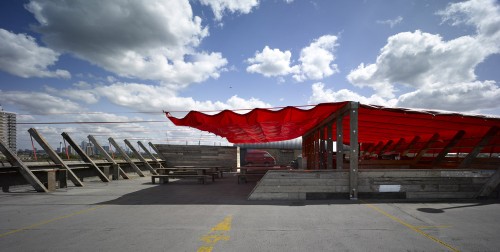 This summer Hannah Barry Gallery brings Bold Tendencies: Sculpture Project 4 to levels 7-10 of the Peckham Rye multi-storey car park. The fantastic annual exhibition transforms the top four floors of the disused space into an open-air showcase for some rather splendid sculptural works by the likes of Rachel Adams, James Balmforth and Matthew Darbyshire to name but a few.
Frank's Cafe and Campari Bar, designed by Lettice Drake and Paloma Gormley and run by Frank Boxer and chef Michael Davies, will return for a second year. The food at Frank's is a reflection of the best available British summer produce – fruit and vegetables, meat and fish, cooked with consideration and presented simply.
Bold Tendencies 4 features the work of Rachel Adams, James Balmforth, Nicholas Byrne, Juliana Cerqueira Leite, Matthew Darbyshire, Edward Fornieles, Lauren Gault, Anthea Hamilton, Alex Hoda, Sam Kennedy, George Henry Longly, Mohammed Qasim Ashfaq, Florian Roithmayr, Giles Round and Alexandre Singh.
The exhibition will run through to 30th September and is open Thursday-Sunday, 10am-10pm or by appointment.
Floors 7-10 Peckham multi-storey car park, 95a Rye Lane, SE15 4ST
www.hannahbarry.com
Categories
Tags