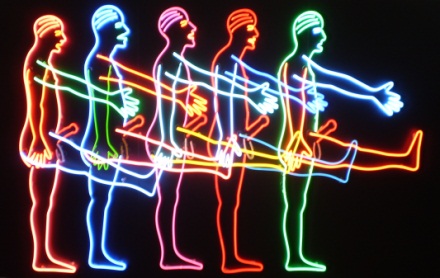 Bruce Nauman: Dream Passage
28 May – 10 October 2010
The exhibition, Dream Passage, presented by the National Gallery in the Hamburger Bahnhof – Museum für Gegenwart – Berlin, is the first major retrospective in Berlin of the internationally famous American artist Bruce Nauman.
Since the middle of the 1960s, Bruce Nauman has worked with a diverse range of media; his extensive oeuvre includes sculptures, films and videos, photographs, neon works, prints, installations and vocal works. This exhibition focuses predominantly on Nauman's neon, film and architectural pieces, making the exhibition an extremely dymanic and immersive experience.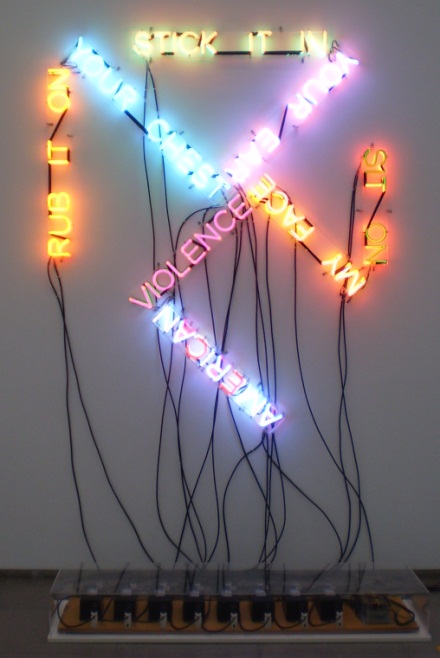 Explicit political connotations have been a major focus of Nauman's work since the beginning of the 1980s. This is illustrated, for example, by the complex neon works like American Violence, (1981-82), or Sex and Death / Double 69, (1985), (picutred above) which examine the connections between sex, violence and death.
At the end of the 1960s, Nauman began constructing corridors and rooms that could be entered by visitors and which evoked the experience of being locked in and of being abandoned. Excellent examples of this "experience architecture" are shown in the central hall of the museum, including the complex work Corridor Installation (Nick Wilder Installation) from 1970, where visitors are recorded by a video camera and then confronted with their own image. In the elliptically shaped Kassel Corridor: Elliptical Space (1972), created for documenta 5, however, one viewer at a time may enter and stay for the maximum of one hour.
Categories
Tags