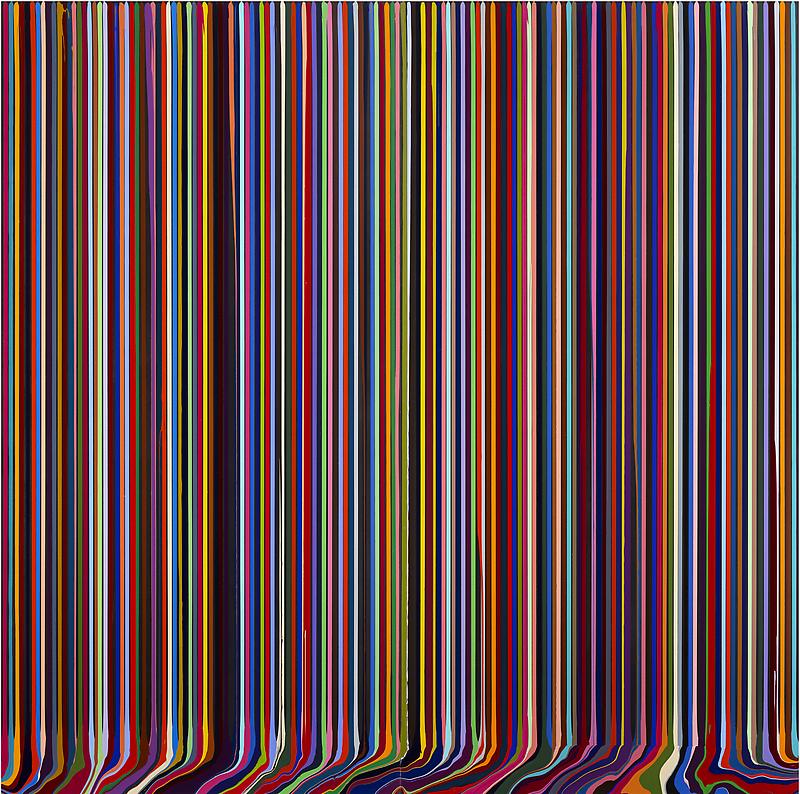 Image:Ian Davenport Puddle Painting: Anthracite Black, 2009 acrylic paint on stainless steel, mounted on aluminum panel 98 1/2 x 98 1/2 inches 250.2 x 250.2 cm PK 13106, Paul Kasmin Gallery

June 10 – July 2, 2010
Paul Kasmin Gallery is pleased to announce its upcoming summer exhibition, "Process / Abstraction," on view at 293 Tenth Avenue from June 10 to July 2, 2010.
Connecting the ideas and practices of Simon Hantaï and Frank Stella with a younger generation of abstractionists like Nathan Hylden and Zak Prekop, the exhibition examines the constraints, procedures and repeated gestures used by these artists to create new images. From folding to pouring to combining and systematically recombining a set of visual components, many of these artists begin with deliberate and well-defined parameters and then introduce an element of chance. In their final forms, these works present a record of the processes employed while outlining new directions in pictorial abstraction.
Artists included are: Walead Beshty, Daniel Buren, Ian Davenport, Simon Hantaï, Nathan Hylden, Morris Louis, James Nares, Kenneth Noland, Zak Prekop, David Ratcliff, Frank Stella, Andy Warhol and Christopher Wool.
www.paulkasmingallery.com
About the gallery
Founded by Paul Kasmin (1960–2020) in SoHo in 1989, Kasmin cultivates a rigorous exhibition program that places historic figures of Post-War art in dialogue with the evolving practice of established and emerging artists working today. For over 30 years, the gallery has nurtured the careers of eminent modern and contemporary artists including Tina Barney, Walton Ford, James Nares, Roxy Paine, Elliott Puckette, Mark Ryden, Bosco Sodi, and Bernar Venet, among many others, and put on the first-ever U.S. gallery shows of artists including Les Lalanne. Kasmin was among the first galleries to move to Chelsea in 2000 and continues to expand its program to include more artists and estates, now encompassing three gallery spaces anchored in the heart of the Chelsea Arts District at 10th Avenue and 27th Street.
Categories
Tags