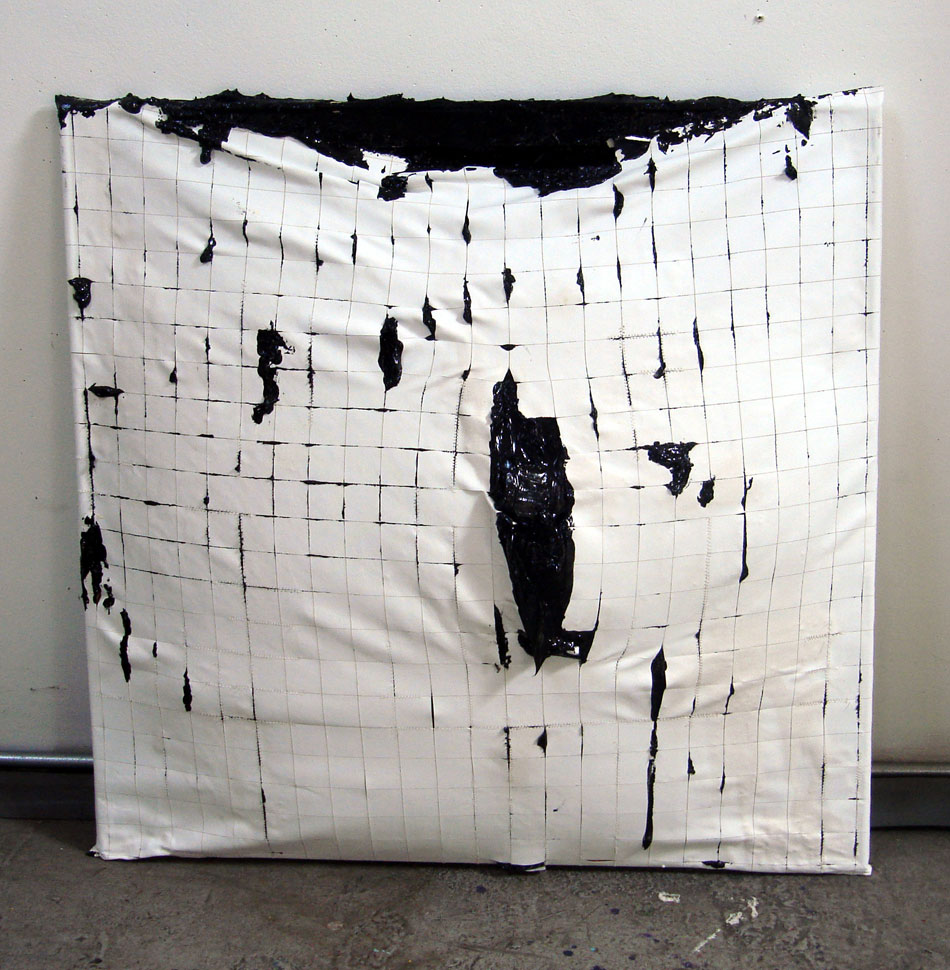 June 10th – July 17th, 2010
Information Leaks – concentrates on two bodies of work to be installed in the upstairs and downstairs spaces of the gallery. As part of her ongoing investigation into rethinking the object, Saban has conceived eight Painting Bags and four canvases touching on the deconstruction of painting, and in so doing challenging certain ideas of display within the medium.
Having studied under, and now in regular contact with John Baldessari in Los Angeles, Saban exerts an unsurprising sense of freedom in her approach to painting, where a conceptual framework underpins her active interest in materiality. Her practice is very much one of adhering to rules or guidelines she sets herself in her attempts to work things out or uncover techniques. Yet at the same time she has the impatient curiosity to disseminate preconceived notions of order or value, literally disassembling objects or images to start again from scratch. In her earlier works for example, she has unraveled the canvas of a painting and rolled it into a Painting Ball, or made paintings by attaching individual acrylic brushstrokes to the canvas with artist tape. This decoding is essential to Saban, whereby the work she produces is just part of a process in examining the possibilities of making, using, finding, perverting, destroying and re-assembling materials and existing forms.
There is a sense also that Baldessari's engagement, or aestheticisation of banality, surfaces in Saban's work. An affection for readymades, and the subsequent re-making of them, hints at a scientific approach to process, where everyday objects and assumed ways of seeing or thinking about art, are challenged and scrutinised. In this respect, in searching for the elements that make up or produce a picture or an image, the subject matter becomes a tool from which she can break through the composition in order to explore the work's physical properties.
The upstairs space presents the Acrylic on Canvas: Offset works, dealing with the idea of transcendence – paint transcending form. The works consist of a layer of clear acrylic that is laser-cut to produce a simple outline of a form. These include a straight line, a work with two pipes, a vase, and a tree, where blobs of acrylic paint fill the forms with color, then subsequently move towards the edge of the frame. For the basement works – Acrylic in Canvas, Saban has focused on the idea of storage, seeing paintings as containers for paint. The canvas becomes a sack that stores gallons of paint, and thus becomes a heavy object, a sculpture that necessitates laying on the floor – leaning supported by the wall. The surface of the canvas is also laser-cut to produce incisions that allow the paint to bleed onto the exterior surface of the bag. The process allows us to see the order of representation in reverse: instead of paint on canvas, the cut canvas becomes the image while the paint becomes the background – canvas on paint.
Inviting the audience into the making and investigating behind her practice is an integral step for Saban. Through this unraveling of ideas and material, she has found her own language to articulate the changing dimensions and shifting values that painting has come to represent.
Analia Saban – born 1980 in Buenos Aires, Argentina, lives and works in Los Angeles. Recent Solo shows include Light Breaks Out of Prism, Thomas Solomon Gallery, Los Angeles, 2009, Living Colour, Galerie Praz-Delavallade, Paris, 2009 and Wet Paintings in the Womb, Galerie Spruth Magers, Munich 2007.
Categories
Tags