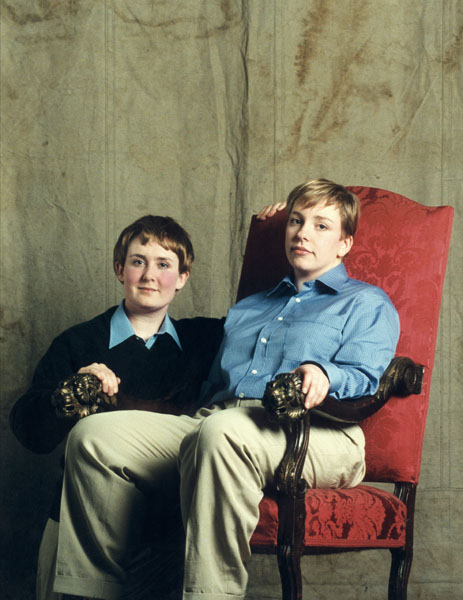 Self-portrait as Prince William & Prince Harry © The Girls, Andrea Blood & Zoe Sinclair
The Girls are Andrea Blood & Zoe Sinclair FAD managed to get them to answer our questions.
1 If you weren't an artist, what else would you be?
AB: Marine Biologist ZS: Life Coach
2 Name 3 of your least favourite artists.
Mark Rothko, Jackson Pollock, photographer Terry Richardson
3. Anytime, any place – which artist's body would you most like to inhabit?
Diane Arbus, to discover her real motives and thoughts behind her work, and maybe even put her off topping herself.
4 What is your favourite 'ism'?
Symbolism
5 What was the most intelligent thing that someone said or wrote about your work?
'Seriously weird.'
6. And the dumbest?
"Do you do kid's parties?"
7 Which artists would you most like to rip off, sorry, I mean appropriate as a critique of originality and authorship?
Henry Darger
8 Do you care what your art costs?
State your reasons!Not really, like everything, it's only worth what someone else is willing to pay for it.
9 What are the three big ideas that you would like your work to express?
There is beauty in imperfection Less is, just less. The Enemy Is Time!
10 Are you a political artist?
We make all our decisions collectively whilst we regularly devise methods and tactics to formulate and apply our heartfelt internal policies amongst ourselves. We also take regular turns to be Queen.
11 How do you start the process of making work?
Think, brainstorm, draw, refine, refine, refine
12 What next?
Choose, edit
13 If Moma and the Tate and the Pompidou wanted to acquire one of your works each, which would you want them to have?
Moma – Care Bears (self-portrait as Funshine Bear & Cheer Bear)Tate – William & Harry (self-portrait as Princes William & Harry)Pompidou – The Embodied Soul Passes Through Girlhood to Death (self-portrait)
14 Complete the following sentence "Blessed art the artists, for they shall……"Give birth to it
15 Complete the following sentence "Blessed are the curators, for they shall…"Nurture it
16 Complete the following sentence "Blessed are the art critics, for they shall…."Kill it
17. What is your favourite cheese?
AB: Smoked ZS: Tasmanian Blue cheese called 'The Roaring Forties'

18. What's next for you?
Japan and a book
See The Girls This is England Through to 21st June
THE GIRLS Andrea Blood & Zoe Sinclair www.thegirls.co.uk
Categories
Tags