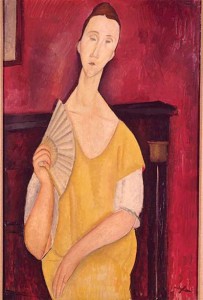 Masterpiece: Modigliani's Woman With A Fan, one of the works stolen from a Paris museum. One thief jumped through a window
Masterpieces worth up to £430 million, including works by Picasso and Matisse, have been stolen during an audacious dawn raid on a Paris museum.
A lone thief is believed to have broken into the city's Museum of Modern Art in what police described as the "art heist of the century".
He is thought to have defeated sophisticated alarm systems to enter the highly protected building.
CCTV footage caught an image of a "heavily disguised, burly figure" jumping through a smashed window. A police officer said the suspect was hidden by a hood and face covering.
Sensors suggested that the window was broken at 6.50am. A security lock inside the building had also been damaged. The canvases are thought to have been cut from their frames and taken away in a single bundle.
Staff spotted the thefts when they arrived for work at 7am. Works by Braque, Léger and Modigliani were also taken. One police source said: "It's an enormous crime — one of the biggest in art history. The paintings are estimated to be worth €500 million." The five works are Picasso's Pigeon With Green Peas; Matisse's Pastoral; George Braque's Landscape With Olive Tree; Amedeo Modigliani's Woman With A Fan; and Fernand Léger's Still Life With A Chandelier. Read the rest of the article at ThisisLondon
Picasso and Matisse stolen from Paris museum in €500 million raid
[Daily Telegraph]
Categories
Tags