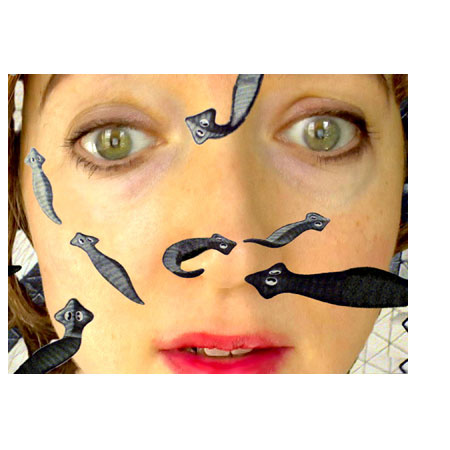 14 May – 3 July 2010 Private View: Thursday 13 May, 6-8pm
Performance at 7pm
Gimpel Fils is proud to present Puzzle Saga, the latest instalment in Shana Moulton's ongoing series of short films and performances about Cynthia, an anxiety-ridden hypochondriac who searches for happiness and fulfilment through new-age remedies and self-help guides. Cynthia's quest for healing and escape from the maladies that consume her are played out in narratives that are at once comic, surreal, joyful and melancholic.
Over the course of ten video episodes and related installations and performances, Moulton's Whispering Pines series has seen Cynthia assess her femininity via a singing sphinx; dance with abandon after a visit with Lady Nova, a woman with healing hands; and discover a rave in her attic after climbing a magical ladder that grew out of a flower arrangement. Through these weird and wonderful narratives Moulton probes various aspects of popular culture and art history, from cult religions and the commercialization of the hippy aesthetic to modern art's relationship with transcendentalism and non-western spirituality.
The belief that consumerism can enable fulfilment leads Cynthia to invest in useless kitsch products; Holding a mirror to society Moulton reveals the strangeness of reality and the idea that products, from cleansing pore strips to kinetic wall pictures, can make things better. Ultimately, we see that Cynthia has to purge herself of these items in order to achieve momentary enlightenment. The new work included in Puzzle Saga sees Cynthia bridge the gap between the prosaic, aesthetic, and supernatural; Addressing feminist issues, Moulton explores the simultaneous deification and subjugation of the female form.
On entering the gallery visitors will be faced with two giant multi-coloured sphinxes guarding a darkened chamber. Passing through the key-hole doorway, a three screen projected installation will transport you into Cynthia's fantastical world.
During the private view on Thursday 13 May Shana Moulton will bring Cynthia and her extraordinary world to life through an innovative use of sets, props, costume and video.
Shana Moulton was born in Oakhurst in California, and lives and works in New York. A graduate of the University of California Berkeley and Carnegie Mellon University, she has also attended the Skowhegan School of Painting and Sculpture and De Ateliers, Amsterdam. Solo exhibitions include Erratic Anthropologies, Art in General, New York (2010); Deterioration, they said, Migros Museum für Gegenwartskunst, Zurich (2009); 4×4, The Bluecoat, Liverpool (2009); Repetitive Stress Injuries, Pianissimo, Milan, Italy (2008); and Whispering Pines, Gimpel Fils Gallery, London (2007). Moulton has also participated in numerous festivals and screenings including: Performa 2009, New York; Art|Film at Art Basel, 2009; Latvian Centre for Contemporary Art (2009); Impakt Festival 2009, Utrecht; New York Underground Film Festival (2008); The Museum of Contemporary Art, Banjaluka (2008); and Museo Nacional Centro de Arte Reina Sofía, Madrid (2007).
www.gimpelfils.com
Categories
Tags