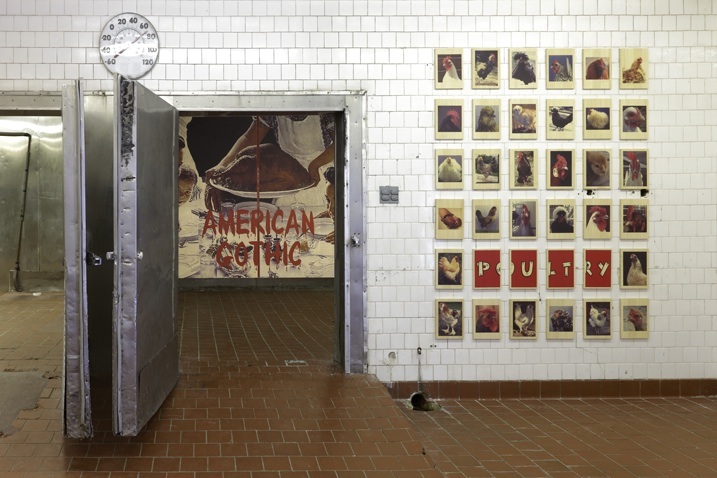 Credits:Installation View Photo by Thomas Mueller Courtesy of the artist and Gavin Brown's enterprise
JONATHAN HOROWITZ May 9 – June 19, 2010 Opening Reception: May 9, 2010 4-6PM
Gavin Brown's enterprise (GBE) is to restage Jonathan Horowitz's widely acclaimed 2002 exhibition "Go Vegan!" Originally presented at Greene Naftali Gallery, this major installation work will be updated by the artist for a new site: the former butchery of storied meat purveyor Pat LaFrieda Meats, which stands adjacent to GBE at 601 Washington Street.
Opening May 9th, "Go Vegan!" takes the form of a full-scale, multi-room environment. The work includes a portrait gallery of more than 200 celebrity vegetarians, from philosopher and poet Ralph Waldo Emerson to late comic Andy Kaufman, whose images have been downloaded from the Internet; a gallery of animal portraits; a video installation featuring film of Paul McCartney and his late wife Linda Eastman McCartney, as well as footage of commercial animal slaughter; and a Minimalist tofu sculpture. By turns violent and comical, the project is a vivid, engaging and forthright attack on complacency.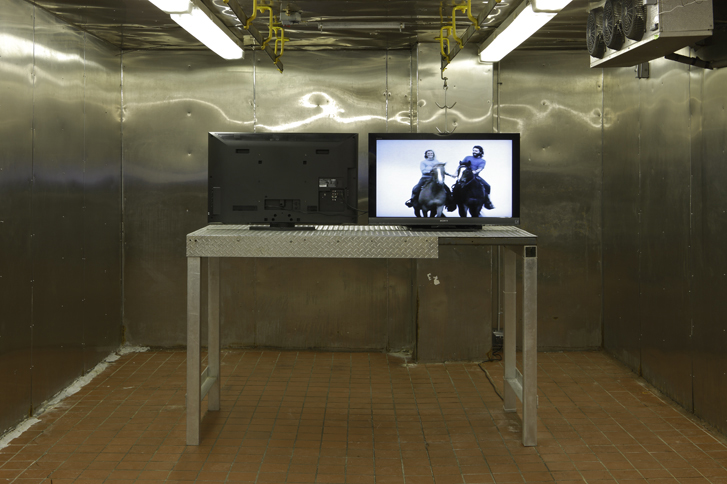 Credits:If Slaughterhouses Had Glass Walls, 2002/2010 video Installation installation View Photo by Thomas Mueller Courtesy of the artist and Gavin Brown's enterprise
"Go Vegan!" will be the inaugural exhibition the newly expanded GBE, which has taken over the 10,000 square foot LaFrieda coolers and tiled meat processing spaces that extend behind the gallery's existing 620 Greenwich Street address, along the full length of Leroy Street in the far West Village. Horowitz's project will open with a Green Ribbon-cutting event and reception to mark the transformation of this site from a meatpacking factory to a lab for artmaking and cultural commerce. The exhibition will remain on view through June 19th.
About 'Go Vegan!'
With its signature combination of subjectivity, pathos and humor, Jonathan Horowitz's "Go Vegan!" explores vegetarianism and sustainability while also hinting at parallel issues that emerge in a world gorging daily upon celebrity and commoditized pop culture.
The perceived non-threatening nature of vegetarianism as a subject for political art conceals its potency as a stand-in for other highly charged social issues of our day, ranging from war to AIDS. When one examines the troubling contradictions – astonishing cruelty, environmental and health risks, economic imbalances – involved with the business behind and mass consumption of meat, vegetarianism takes on the urgency of much larger debates in which the survival of the human race is at stake. Every year, as the connection between meat consumption and climate change becomes more apparent, the words of Albert Einstein become more and more prophetic:
"Nothing will increase the chances for survival of life on earth as much as the evolution to a vegetarian diet."
Preceded by "Obama 08" and "The New Communism" in 2005, "Go Vegan!" is Jonathan Horowitz's third solo show at Gavin Brown's enterprise. Other recent exhibitions of work by the artist include "Apocalypto Now" at Museum Ludwig, Cologne, 2009; "And/Or" at P.S.1 Contemporary Art Center, New York, 2009; and "Free Store, " Sadie Coles HQ, London, 2009.
Gavin Brown's enterprise 601 Washington Street New York, NY 10014 Tu – Sat 10a – 6p


Credits:Beef (32 Portraits of Cows Downloaded from the Internet), 2002/2010 36 framed ink jet prints 11 1/4 x 8 3/4 each, overall: 80 x 60 inches Installation View Photo by Thomas Mueller Courtesy of the artist and Gavin Brown's enterprise
Categories
Tags