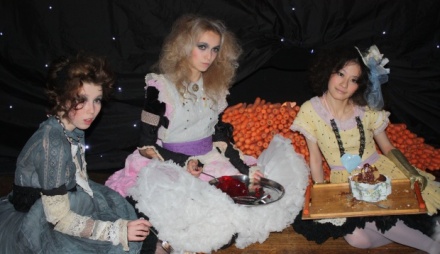 On Thursday 6 May the Barbican Centre hosted an evening of fantasy and imagination in the form of a whimsical Mad Hatter's Tea Party. The Barbican's Garden Room was transformed into a dream like wonderland adorned with floating edible treats and fantastical fairy lights while the fancy costumes worn by guests added to the atmosphere of wonderment.
The Mad Hatter's Tea party was part of the Ron Arad: Restless events season, and offered visitors to the exhibition the chance to mingle with other design/ art fans in the magical atmosphere.
Food was provided by concept chef and artist Caroline Hobkinson who created quirky culinary delights for the night, such as gigantic cupcakes, enormous cucumber sandwiches and magic potion jellies.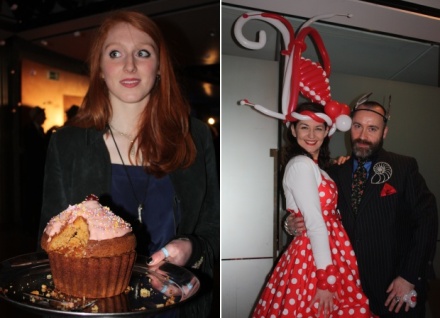 Headpieces by acclaimed taxidermist and jeweller Reid Peppard set the standard for costumes with her collection of unique creations modelled by the waiters. Peppard's provocative taxidermy headpieces challenge the boundaries between the real and the unreal. These pieces were from her debut Vermin Collection which transforms London's rats and pigeons into macabre objets d'art.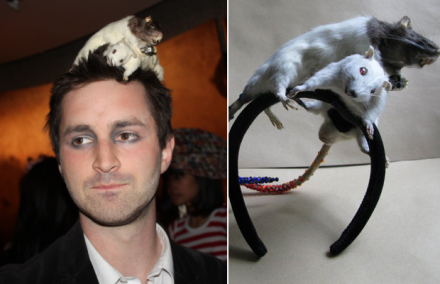 Next weeks event Wiff Waff takes place on Thursday 13 May from 6.30–10pm in Barbican Art Gallery. This will be a ping pong tournament inspired by Ron Arad's love of ping pong and Wiff Waff – ping pong's Victorian precursor. The tournament takes place in the gallery using Arad's own stainless steel ping pong table and specially commissioned paddles by London-based Troika.
Come Along Play Ping Pong from Barbican Centre on Vimeo.
by Pippa Irvine
Categories
Tags