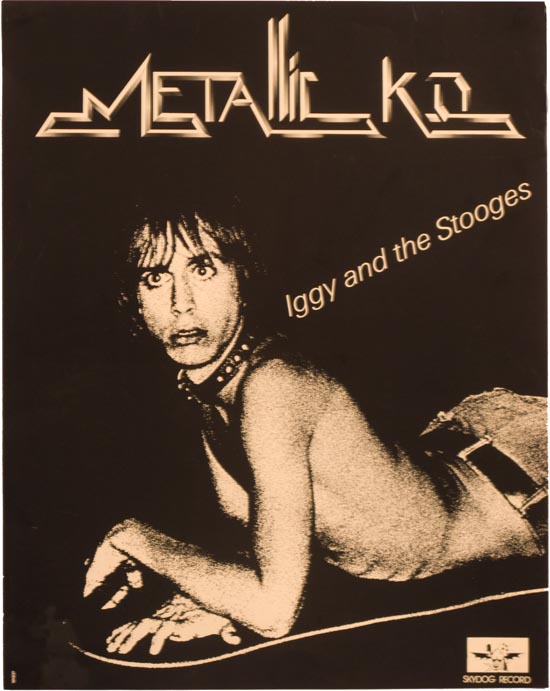 Image:Iggy & the Stooges' 'Metallic Ko' album promo poster. Skydog Records – 1976 poster
EXHIBITION 7-29 MAY 2010
For the first time in London, Marc Zermati will be showing items from his thirty-eight years in rock music at the Subway Gallery. He will open his files and boxes and display a range of rare posters, original drawings and lithographs…treasures that have given rhythm to his life. The atmosphere of the OPEN MARKET will be recreated with vinyls, stickers, badges, tickets for concerts and backstages, letters from musicians, original drawings, articles from the international rock press and photographs of musicians, artists and friends.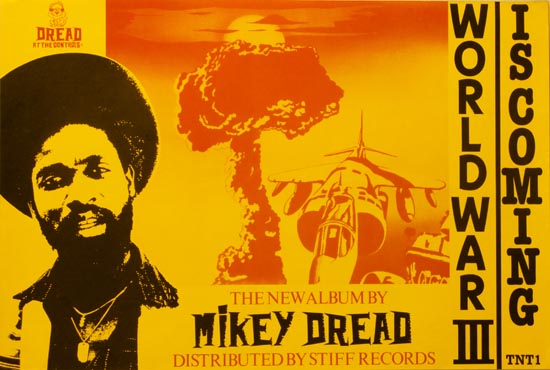 Image:Mikey Dread world war 3 – Dread at the control – 1982 poster
ROCK IS MY LIFE will feature Iggy Pop & the Stooges, Lou Reed & The Velvet Underground, Motorhead, Damned, Slits, Elvis Costello, Johnny Thunders & the Heartbreakers, the Clash, Big Audio Dynamite, Eddie & the Hot Rods, Jewel, Little Bob Story, Electric Callas, Asphalt Jungle, the Dogs. Works by Olivia Clavel, Kiki and Loulou Picassso, of the punk collective Bazooka, the New York graphic artist Futura 2000, and Jamie Reed,will be shown together with rare posters of the Sex Pistols, Jefferson Airplane, Bob Dylan, the Ramones, Jim Morrison and the Cramps, among many others.
In December 1972, Marc Zermati created OPEN MARKET an underground music store in Paris, Rue des Lombards, a magnet for the counter-culture, featuring rock and punk. In 1973 he founded SKYDOG, the first independent punk rock label. In 1974, with Larry Greenbear, Marc opened BIZZARRE, the first independent records import & distribution company in England, with shop and office in Praed St, London W2, carrying all the first punk singles from NYC , distributing fanzines and rock stuff. He starts also being a promotor for the pub rock scene and punk rock bands.
In 1976, Zermati organized the first punk music festival in Mont de Marsan, south-west France. It included The Damned, Doctor Feelgood, The Gorillas, Eddie & the Hot Rods, Kalfon Rockshow and Passion Force (Black Punk Rock'n'roll), he also released an LP of the last spectacular live performance of Iggy Pop & the Stooges. The following year, in 1977, more than 6000 people attended Zermati's second Mont de Marsan punk festival, which featured the Clash, Police, Little Bob Story, Damned, Rings, Maniacs, Lou's, Shakin' Street, Asphalt Jungle, Jewel, Tyla Gang, Marie & Boys and Doctor Feelgood.
http://www.skydog.fr/
www.subwaygallery.com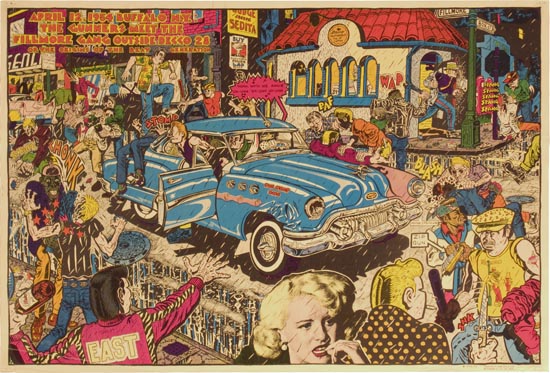 Image: FILLMORE Beat Generation's birth by Spain Rodriguez – 1966 poster
Categories
Tags