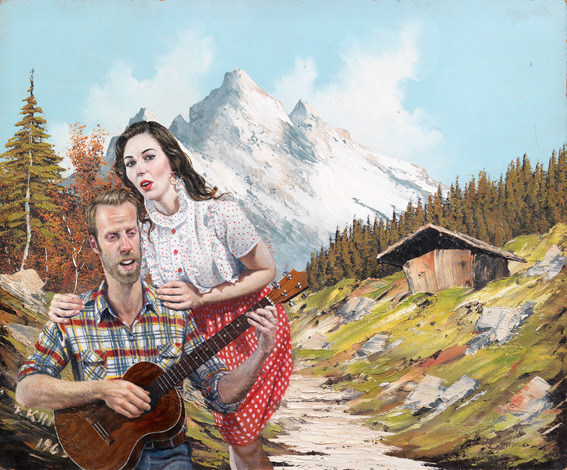 The work of Stuart Pearson Wright (b. Northampton 1975) reflects a search for lost identity. One of the early children born in the UK by Artificial Insemination the artist feels that the process has created an 'identity void' which his work attempts to confront. Wright's new series of paintings at Riflemaker – shown alongside a film installation featuring Keira Knightley – explore and dispel the stereotypes of masculinity and femininity as depicted in films, books and comics; specifically in the stories and myths of the American West.
Painting the human figure in an era when it was not always seen as a legitimate part of contemporary art, and a winner the BP Portrait Award aged just 26, Wright has spent much of his career attempting to subvert traditional portrait painting. He and his subjects, employing his own features and those of his fiancée in meticulously painted and stylised characters set in pulpy, fictional situations.
Having never met his father, Wright says: "Each time I paint my own face I am looking at the face of my father – without knowing who he is or was or what he looked like. As a result, I'm interested in the ways in which we construct ourselves and our apparent identities – and the layers and the processes we go through in that construction".
The cowboy as an archetypal masculine hero appears throughout the series of paintings at Riflemaker. We see him as a rider looking down from a rocky outcrop in a panoramic landscape reminiscent of Caspar David Friedrich. Wright cites the closing sequence of the early 1980s TV series The Incredible Hulk, with its attendant heart-wrenching 'lonely-man' theme, as a watershed moment that stirred deep sadness in him as a boy, teaching him everything he needed to know about existentialism and the human condition. The apparent frivolity and vaudeville melodrama in the paintings is underscored by a dark, Pinteresque humour.
In this way the artist explores the boundaries between high and low art, some of his characters being painted onto Thrift-store canvases bought in the US as he replicates that style in his own backgrounds. This exploration has extended beyond his own work. In 2009, he staged 'Kunskog' at 500 Dollars, Vyner Street. Wright selected one hundred works which embraced the gamut of contemporary drawing and the idiosyncrasies of taste, from works by Turner Prize winner Gillian Wearing, and established artists, Paul Noble, Michael Landy and Ged Quinn, to others who 'draw in private', including former subjects, John Hurt and David Thewlis. Stuart also invited 'non-artists' to submit work for the show, including friends, their children and his own mother.
The artist's work features in numerous public collections including the British Museum, the Ashmolean Museum and the Rhode Island School of Design (RISD) Museum.
The film installation, Maze, running concurrently with I Remember You, casts the artist as an Elizabethan courtier trying to reach his lover, played by the actress Keira Knightley. The characters become increasingly frustrated and claustrophobic as they navigate the maze in their opulent costumes, calling bathetically to one another in the twilight. Darkness descends and Edmund collapses into a foetal position as Constance recomposes herself and exits the frame calmly. Split across two screens that can not be watched simultaneously, the viewer must choose which character to follow: Romantic artist or fickle muse? Earnest male or inconstant female? Visual artist or Hollywood actress? If the two screens tell different stories, they can, all the same, both be inhabited at different times. Whilst we may not be all things all of the time, our identifications can shift at any moment. This restless sense of self and the drive to get into other peoples' skins as a way of getting into his own, is characteristic of Stuart's work.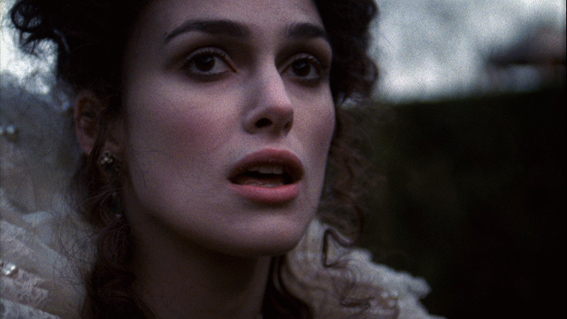 Maze: a film installation by Stuart Pearson Wright A Riflemaker exhibition Private view Wednesday 26th May, 6 – 9pm
1 Berwick Street, London W1F 0DR Exhibition continues until Wednesday 9th June Mon – Fri 11am – 6pm, Sat 12pm – 6pm
Stuart Pearson Wright with Keira Knightley
6-8pm: 79 Beak Street, London W1F 9SU 'Maze' 8-10pm: 1 Berwick Street, London W1F 0DR
About Mark Westall