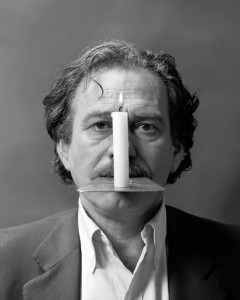 Greco-Italian artist Jannis Kounellis (b. 1936), a key figure in international contemporary art for over forty years, will create major new works, especially conceived for Ambika P3. Using the unique characteristics offered by the spaces of Ambika P3 as his canvas, this major new exhibition, presented by Sprovieri Gallery, will be the first solo presentation by Kounellis in a public London space since the Whitechapel Art Gallery exhibition in 1982.
Jannis Kounellis was initially associated with the Italian Arte Povera of the late 1960s, a movement that tried to free art from the conventions, structures and the market place restrictions of the day, and also (through the nature of the materials used) to make an art much closer to the everyday life of people. In 1969 he was made famous by a work he presented in Rome in which he temporarily turned a gallery into a stable for twelve horses. Since then, through his continued pushing of the boundaries of what is considered art, Kounellis has remained at the forefront of developments in contemporary art.
While his works are perhaps best known for their frequently epic scale, it is in the details of their making that they are at their most human. Always made from a gathering of everyday materials (such as wool, sacking, used clothing, old musical instruments or pieces of steel), when grouped together these disparate ingredients take on new meanings and associations. In one famous untitled work from 1967, Kounellis cut a sheet of steel into the shape of a flower, and inserted a gas flame at its centre – the hard, metallic cold of the steel contrasting with the form of the inanimate flower, which in turn gave forth a hot, (life and death giving) lick of fire. In another piece from 2004, installed in a space filled with oriental carpets and covered by an army of falling steel crosses suggesting the encounter of two different cultures, he again contrasted the textures, strengths and uses of the materials, while reconnecting them to man through their histories.
Starting his career as a painter, Kounellis still describes his practice as painting. His first paintings were exactly the size of one of the walls in his house. Physical space then became his canvas and in this respect the actual making of his works also becomes something of a performance, in which the space is articulated by the placing of the objects within it. It is no surprise therefore that Kounellis works only within carefully selected spaces.
www.p3exhibitions.com
Ambika P3, the dramatic underground space in central London where Jannis Kounellis has installed his most recent work, provides an exceptional opportunity for the artist to have a dialogue with another very unusual alternative space. Over the last forty years Kounellis has had many occasions for such dialogues with and in the interior spaces of warehouses, churches, castles and even of a cargo ship.
The Ambika P3 space corresponds to Kounellis' vision of the 'cavita', a mysterious hidden place that needs to be deciphered and revealed. He decided to occupy the centre of that space by tracing on the ground the lines of a huge letter "K" and then giving it a verticality with the rich visual vocabulary of his materials, objects and dimensions combined to create a powerful presence in a former concrete testing hall and to give it a new raison d'être.
The "K" stands, of course, for Kounellis, but the artist also reminds us of the famous K. of Kafka's Castle, the carpenter who never succeeded in entering the labyrinth spaces. Kounellis is engaged in the search for the centre of his work and the Ambika P3 space is for him a new step to achieve his aim.
Placed on tables following the lines of the "K", Kounellis has installed his vertical partitions of steel topped with coal and entirely covered on both sides with lines of empty bottles, reminiscent of Cathedral stained-glass windows. These steel and glass elements, all of the same size (200x180cm) are the structure on which Kounellis has hung sacks and coats or stretched pieces of fabric held with steel ropes, all reflecting the tensions, weight and tragedy of human existence.
In a single room, Kounellis has placed other elements symbolizing the human presence. This Atto Unico (as in theatre) is a strong statement by a major artist of our time about the existential difficulties we all encounter, but contains also a hope for the future based on the achievements of a new unitary vision for humanity and artistic creation.
Marc Scheps, April 2010
Categories
Tags