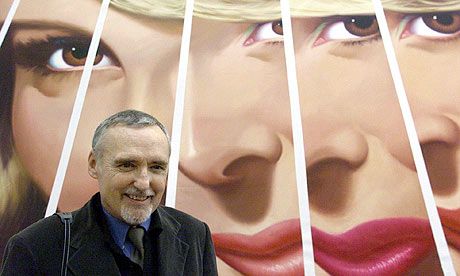 Image: Cor Mulder/EPA
Dennis Hoppers career as an artist is to be the focus of an exhibition at the Los Angeles Museum of Contemporary Art, curated by fellow film-maker Julian Schnabel.A retrospective of artwork by the actor Dennis Hopper, curated by his friend and fellow film-maker Julian Schnabel, is to open at the Los Angeles Museum of Contemporary Art.
According to the Los Angeles Times, the exhibition, the first under the museum's new director Jeffrey Deitch, will open on 11 July and is entitled Art Is Life. It will include work from Hopper's various styles and periods, including abstract expressionist painting, pop art collage, graffiti-inspired oils and portrait photographs, the best-known of which feature Paul Newman, Tina Turner and Andy Warhol. There will also be some film content, including a "sculptural installation" that involves the projection of Easy Rider and two of Hopper's other movies.
Deitch conceived the show a couple of months ago after visiting Schnabel, who made his name as an artist in the 80s before a successful move into cinema. The pair admit that the exhibition's haste is in part motivated by Hopper's condition – the actor is battling terminal prostate cancer.
"We're rushing this exhibition because Dennis is ailing," said Deitch, "and I wanted him to be able to participate in the selection of works. He saw the space with us last week."
But he also defended a choice some critics could see as artistically lightweight. "That's one of the reasons I want to do the show," said Deitch said. "It's good to have a mission. I want to try to explain why he's important for a new generation." Via:[The Guardian]
www.moca.org/
en.wikipedia.org/wiki/Dennis_Hopper
Categories
Tags