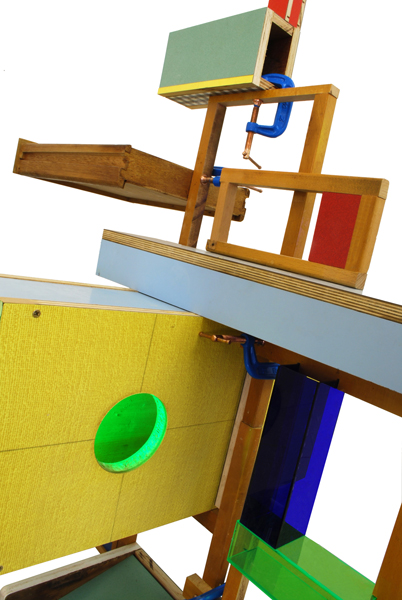 Michael Samuels presents his third exhibition at the gallery with a brand new body of work, which manipulates space, light and everyday objects to create a disorientating environment and viewing experience.
Samuels continues to utilize Formica furniture from the 60's and 70's, which is sourced for its distinctive qualities and appearance. Elements such as tabletops, chair legs and drawers are liberated from their traditional role, cut up and reconfigured into structures that no longer have a utilitarian purpose. Through their displacement any functional reading of the elements is disrupted. The structures are often punctured with coloured Perspex or they emanate light, which further extends the physical presence they hold. The coloured rays penetrate the viewers space, offering a playful presence whilst questioning materiality and form; in dislocating and rupturing everyday objects and introducing light elements Samuels heightens the tension between the functional aspect of the object and its immaterial value.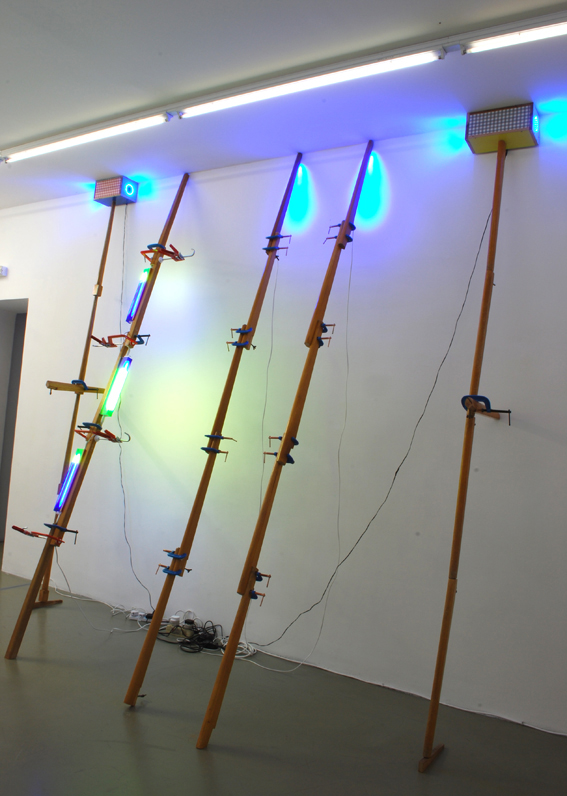 The exhibition's title, Clusterfuck, describes a particular kind of Catch 22 in which multiple complicated problems mutually interfere with each others solution. A chaotic situation may be the first impression that the viewer has of Samuels works installed together in the gallery; surfaces accrue, light fractures and any visual coherence is disturbed. Samuels transforms and disrupts the viewer's spatial coherence but what appear to be fractured parts, slowly reveal themselves as dependant, balanced and refined configurations.
The artist's interest in space and presence is evident both in the wall and floor based sculptures that have recently incorporated "window" like structures. Acting as framing devices of sorts the forms rarely support other components but act as arrangements with which to frame the space beyond. The artist continues to play with the viewer's perception of depth, presence and absence.
ROKEBY recently presented a solo booth by Michael Samuels at The Armory Show, 2010. His work has recently been seen in an exhibition with Sara Barker at Villa du Parc, France and is included in Biennale für Internationale Lichtkunst, Germany. The artist's work is in international collections including The David Roberts Collection, London and The Zabludowicz Collection, his work is included in the current exhibition The Library of Babel/In and Out of Place at 176, The Zabludowicz Collection.
Categories
Tags