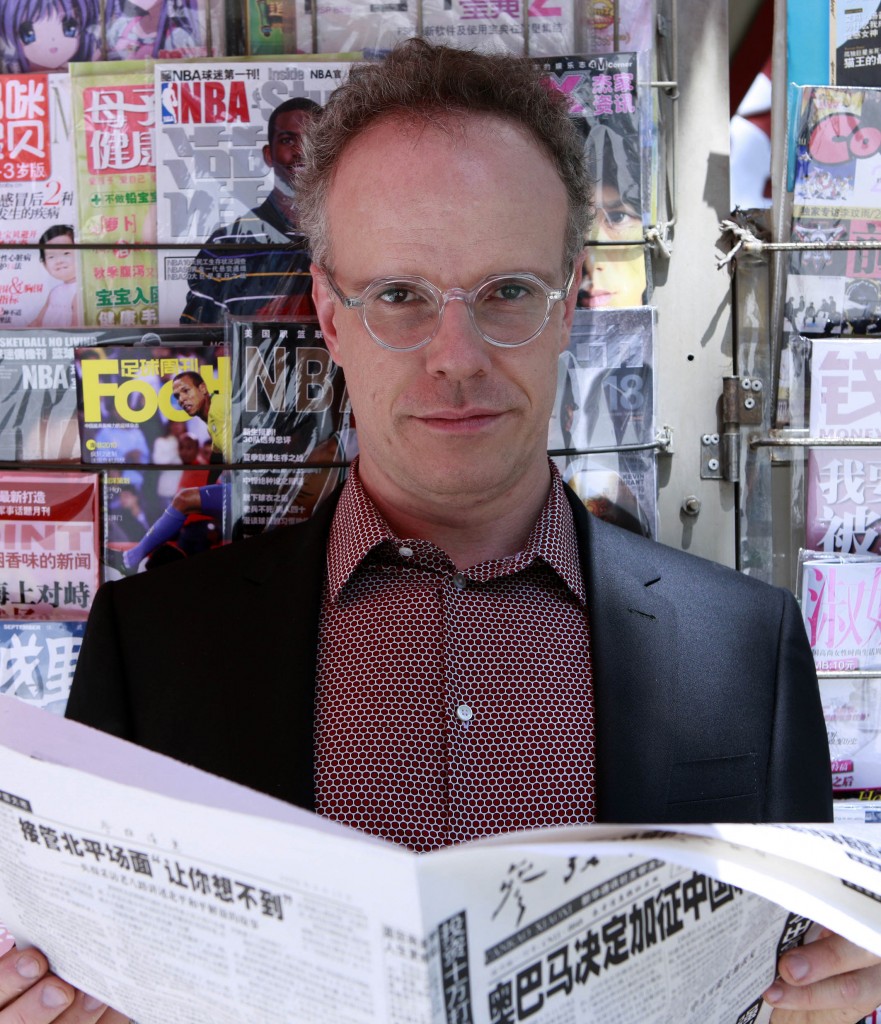 Ben Lewis in his capacity as Guest editor asked some of his friends what was the future of art.
This week we start with Hans Ulrich Obrist in coming weeks we publish answers from Cedar Lewisohn, Tom Morton, Julia Peyton Jones, Josh Baer, Nico Wasserman, Charles Thomson, Janet Lee, Gina Duenfeld, Fransiziska von Hesselback, Anna Catharina Gebbers and finally Ben Lewis himself. Here we Go
Hans Ulrich Obrist Co-Director, Serpentine Gallery
As a curator I am often asked about future trends in art. I don't think we can predict nor prescribe the future of art. It is the famous Etonnez Moi of Diaghilev and Cocteau, great art always surprises us, takes us where we expect it least. To help us see into the future I have for several years been asking artists to answer the question 'what is the future?' and I am always surprised by the responses. The following is a list of answers that I continue to gather. The most recent of these have never before been published.
The future will be….
list compiled by Hans Ulrich Obrist
The future will be chrome
Rirkrit Tiravanija
The future will be curved
Olafur Eliasson
The future will be "in the name of the future"
Anri Sala
The future will be so subjective
Tino Sehgal
The future will be bouclette
Douglas Gordon
The future will be curious
Nico Dockx
The future will be obsolete
Tacita Dean
The future will be asymmetric
Pedro Reyes
The future will be a slap in the face
Cao Fei
The future will be delayed
Loris Greaud
The future does not exist but in snapshots
Philippe Parreno
The future will be tropical
Dominique Gonzalez-Foerster
Future? …you must be mistaken
Trisha Donnelly
The future will be overgrown and decayed
Simryn Gill
The future will be tense
John Baldessari
Zukunft ist lecker
Hans-Peter Feldmann
Zukunft ist wichtiger als Freizeit
Helmut Kohl (proposed by Carsten Höller)
A future fuelled by human waste
Matthew Barney
The future is going nowhere without us.
Paul Chan
The future is now – the future is it
Doug Aitken
The future is one night, just look up
Tomas Saraceno
The future will be a remake…
Didier Fiuza Faustino
The future is what we construct from what we remember of the past – the present is the time of instantaneous revelation
Lawrence Weiner
The future is this place at a different time.
Bruce Sterling
The future will be widely reproduced and distributed
Cory Doctorow
The future will be whatever we make it
Jacque Fresco
The future will involve splendour and poverty
Arto Lindsay
The future is uncertain because it will be what we make it
Immanuel Wallerstein
The future is waiting – the future will be self-organized
Raqs Media Collective
Dum Spero/ While I breathe, I hope
Nancy Spero
This is not the future
Jordan Wolfson
The future is a dog/ l'avenir c'est la femme
Jacques Herzog & Pierre de Meuron
On its way; it was here yesterday
Hreinn Friðfinnsson
The future will be an armchair strategist, the future will be like no snow on the broken bridge
Yang Fudong
The future always flies in under the radar
Martha Rosler
Suture that future
Peter Doig
'To-morrow, and to-morrow, and to-morrow' (Shakespeare)
Richard Hamilton
The future is overrated
Cerith Wyn Evans
futuro = $B!g(B
Hector Zamorra
The future is a large pharmacy with a memory deficit
David Askevold
The future will be bamboo
Tay Kheng Soon
The future will be ousss
Koo Jeong-A
The future will be…grains, particles & bits.
The future will be…ripples, waves & flow.
The future will be…mix, swarms, multitudes.
The future will be…the future we deserve but with some surprises, if only some of us take notice.
Vito Acconci
In the future…the earth as a weapon…
Allora & Calzadilla
The future is our excuse.
Joseph Grigely and Amy Vogel
The future will be repeated.
Marlene Dumas
Ok, ok I'll tell you about the future; but I am very busy right now; give me a couple of days more to finish some things and I'll get back to you.
Jimmie Durham
Future is instant
Yung Ho Chang
'The future is not.'
Zaha Hadid
The future is private
Anton Vidokle
The future will be layered and inconsistent
Liam Gillick
The future is a piano wire in a pussy powering something important
Matthew Ronay
In the future perhaps there will be no past
Daniel Birnbaum
The future was
Julieta Aranda
The future is menace
Carolee Schneemann
The future is a forget-me-not
Molly Nesbit
The future is an knowing exchange of glances
Sarah Morris
The future: Scratching on things I could disavow.
Walid Raad
The future is our own wishful thinking.
Liu Ding
Le futur est un étoilement
Edouard Glissant
The future is now
Maurizio Cattelan
The future has a silver lining
Thomas Demand
The future is now and here
Yona Friedman
is a fax best to use as facsimile G&G FAX is:
THE FUTURE?
SEE YOU THERE!
AS ARTISTS WE WANT TO HELP
TO FORM OUR TOMORROWS.
WE HAVE ALWAYS BELIEVED IN
THE PAST, PRESENT AND FUTURE.
ITS GOING TO BE MARVELLOUS.
LONG LIVE THE FUTURE
WITH LOTS OF LOVE
ALWAYS AND ALWAYS
Gilbert&George
The future is without you
Damien Hirst
The future is a season.
Pierre Huyghe
The future is a poster
M/M
We have repeated the future out of existence
Tom McCarthy
The future has two large beautiful eyes
Jonas Mekas
less, few tours in my future
Stefano Boeri
Future is what it is.
Huang Yong Ping
The future is the very few years we have remaining before all time becomes one time
Grant Morrison
FUTURE MUST BE HERE TODAY
Jan Kaplicky
Future is more freedom
Jia Zhangke
My art is very free, I don't know what to do in the future. But I am positive
Xu Zhen
The future is inside.
Shumon Basar, Markus Miessen, Åbäke
NO FUTURE – PUNK IS NOT DEATH !
Thomas Hirschhorn
The future will be grim if we don't do something about it.
Morgan Fisher
The future is reflexive and coming together
Olafur Eliasson
The future is listening
Shilpa Gupta
The future lies in the unknown
Ann Lislegaard
Nothing stinks, only thinking made it so
Sissel Tolaas
What the future is, you only know next morning
Die Zukunft kann man nur ueber Nacht definieren
Peter Sloterdijk
The future is a disease Peter Weibel
future >< past Susan Hefunahansulrichobrist.com/
en.wikipedia.org
www.benlewis.tv www.artsafari.tv
Categories
Tags