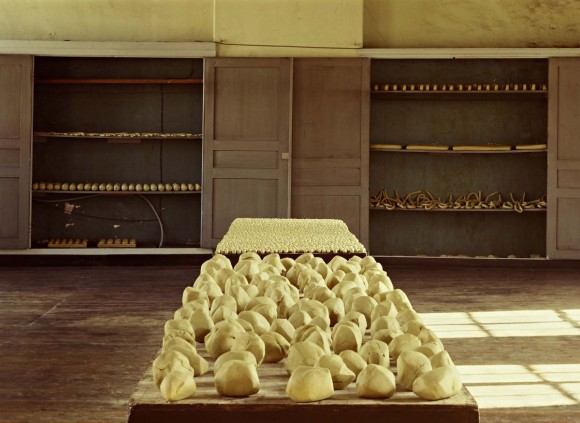 One of the most significant artists working in Brazil today, Italian-born Anna Maria Maiolino, presents a new, site-specific installation and a selection of film works made over the last 30 years.
Anna Maria Maiolino was born in Italy in 1942 and moved to Brazil at the age of eighteen. Studying painting in Rio de Janeiro her artistic career took shape in the 1960s and 1970s, a key period in Brazilian art when artistic experimentation clashed with a repressive political regime.
Employing diverse disciplines and mediums including clay, ink, film and performance, Anna Maria Maiolino's work retains a fundamental concern with creative and destructive processes and with identity; from the subjective to the universal.
For her exhibition at Camden Arts Centre, Maiolino will create an installation using several hundred kilograms of clay. Created by manually rolling and shaping the clay into hundreds of rolls or balls, the basic shapes used in ceramics, the installation refers to everyday tasks, to the individual, society and language; each piece retaining distinctive marks of its manufacture and collectively creating an imposing structure.
The exhibition will also include selected films made by Maiolino over the last 30 years, including Y, (1974) and +&- (1999).
The exhibition is supported by The Henry Moore Foundation and the Embassy of Brazil in London.
Anna Maria Maiolino <<Artists | Biennale of Sydney 2008
The Henry Moore Foundation
Categories
Tags