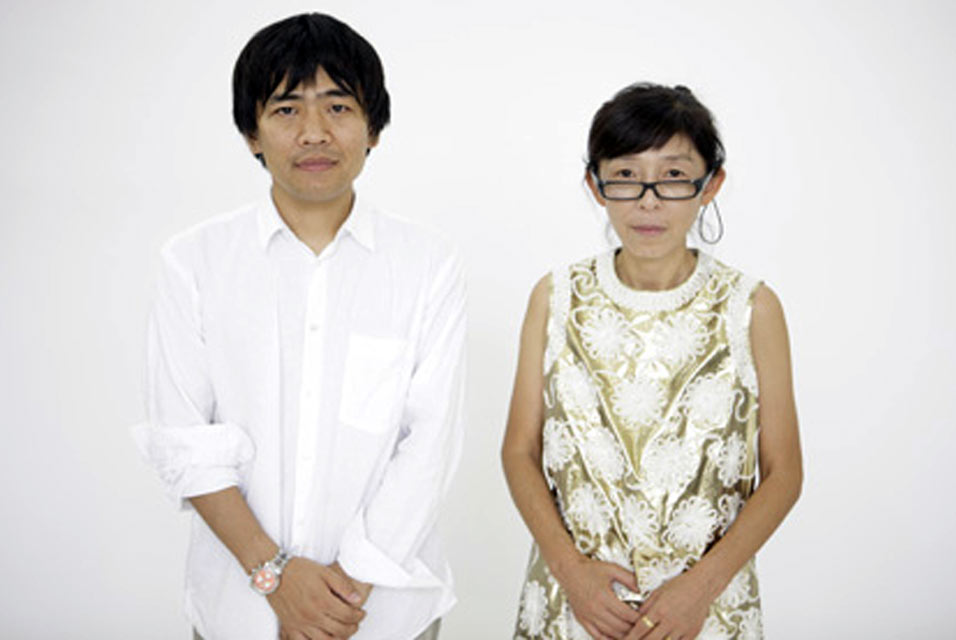 Kazuyo Sejima and Ryue Nishizawa, a duo of Japanese architects praised for using everyday building materials to create ethereal structures that shelter flowing, dreamlike spaces, have won the 2010 Pritzker Architecture Prize, the prize's jury announced Sunday.
Sejima, 54, and Nishizawa, 44, join Frank Gehry, Rem Koolhaas and Renzo Piano in receiving the top honor in the field in recognition of the art museums, university buildings and designer-label fashion boutiques they have designed in Japan, the United States and Europe.
"We want to make architecture that people like to use," said Sejima, who likened the pair's structures to public plazas, where visitors can roam freely in groups or find comfortable spots to spend time on their own. "The jury somehow appreciated our way of making architecture."
The Pritzker jury of architects, academics, writers and designers praised Sejima and Nishizawa for designing structures that blend into their surroundings to provide unassuming backdrops for the activities occurring in their midst.
"They explore like few others the phenomenal properties of continuous space, lightness, transparency and materiality," the jurors wrote. "They seek the essential qualities of architecture that result in a much-appreciated straightforwardness, economy of means and restraint."
Among the projects mentioned by the Pritzker jury were the translucent-skinned Christian Dior Building in Tokyo's upscale Omotesando shopping district and the Toledo Museum of Art's see-through Glass Pavilion.
The jury also mentioned the Swiss Federal Institute of Technology's newly opened Rolex Learning Center, a single-story slab-like concrete and glass structure that undulates over a four acre site, punctured in places to let light enter the massive open space that makes up its interior.
"It's got an excitement and a vitality to it, as well as an originality that you don't often see," said Pritzker juror Lord Peter Palumbo. "It's the sort of building that stops you dead in your tracks."
Sejima, who had previously worked in the offices of acclaimed Japanese architect Toyo Ito, and Nishizawa formed their Tokyo-based design firm Sanaa Ltd. in 1995. The duo was awarded the 2005 Rolf Schock visual arts prize by Sweden's royal academies in 2005.
Sejima is currently serving as the director of this year's Venice Architecture Biennale, the first woman to do so.
The formal Pritzker ceremony will be held in May on Ellis Island. Sejima and Nishizawa will receive a $100,000 grant and a pair of bronze medallions.
Sejima and Nishizawa are the fourth Pritzker laureates to be chosen from Japan after Kenzo Tange, Fumihiko Maki and Tadao Ando.
The duo said they don't see themselves as working within any sort of distinct Japanese architectural tradition. But they acknowledged being influenced by the austere construction methods, lightweight materials and porous boundaries between inside and outside space that characterize traditional Japanese buildings.
"If you see Japanese temples made of wood, you can see how the architecture is made up," Nishizawa said. "They have a clear construction and transparency and they are quite simple. I think this is one of the big things that we are influenced by."
In their citation, the Pritzker jury also named the pair's New Museum of Contemporary Art, a mid-rise stack of unevenly sized, white metal blocks that sit atop a transparent glass base on a scruffy street in New York's lower east side.
The museum moved in December 2007 from its previous location in an up-market SoHo shopping area to the new site in a shabbier part of town.
Nishizawa highlighted that project as embodying the duo's ambition of creating buildings that are open for all to enjoy.
"We're always thinking, 'How we can open up the architecture to the people or to the surroundings that each project has?' This is one of the reasons why our architecture becomes open and transparent and light," Nishizawa said.
"This is just to allow people to come in and to allow people to stay within the building as they like," he said. "The architecture is like a park."
Categories
Tags