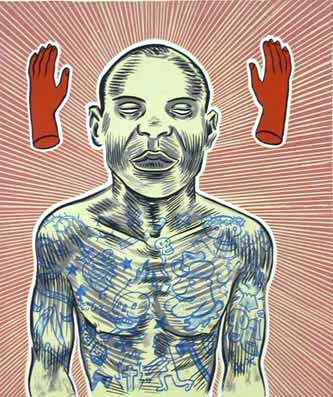 Conrad Botes is perhaps best known as the co-conspirator, with Anton Kannemeyer, behind the notorious Bitterkomix comics; a subversive publication that has been provoking and challenging South Africans in their attitudes towards race, sex and religion, since the early 1990s. This satirical edge now drives his practise as an artist – his reverse-glass painting, wall drawing, sculpture and printmaking.
House of Judas comprises Botes's newest work. He continues to explore the powerful existential ideas of a primal struggle at the root of Man's suffering, but has moved from the strange allegories of the human condition, and the brutality and violence in the biblical story of Cain and Abel, to concentrate on the love and betrayal, and all its consequences, in Judas's relationship with Jesus. Cast as the archetypal outsider, and scapegoat, Judas has little understanding of the situation in which he finds himself. The moral complexities and black humour at the heart of the work are based on issues of gender and race. He examines the challenges and tribulations of the Afrikaner male in modern, post-apartheid South Africa, as he emerges from the psychic and pathological chaos and disorder endemic in its past and present.
Botes's complex language translates something of the immediacy and power of the graphic image on the page of a comic book into paint. The exhibition will include a comic strip featuring Judas, presented as a series of painted glass panels; and in the largest painting, a man who has committed suicide by shooting himself is covered with a crazy pattern of calligraphic symbols and scribbled figures, "like shrapnel under the skin".
Conrad Botes was born Cape Town in 1969. His work for Bitterkomix is included on The Graphic Unconscious, the central exhibition of Philagrafika 2010, an international festival celebrating print in contemporary art, in Philadelphia, USA, until 11 April. He has been selected for the 17th Biennale of Sydney (12 May – 1 August). Other recent group exhibitions include the third Guangzhou Triennial, China (2008); Apartheid: The South African Mirror at the Centre de Cultura Contemporania de Barcelona (2007); Africa Comics at the Studio Museum in Harlem, New York (2007); Turbulence at Hangar-7 in Salzburg, Austria (2007); and the ninth Havana Biennale, Cuba (2006). FRED took his work to Pulse Miami, in 2009.
Fred [London] Ltd will be show casing his works from 25 March – 30 April 2010
Art Prints SA /Conrad Botes
Michael Stevenson – Conrad Botes
A R T T H R O B / ART BIO -Conrad Botes
Categories
Tags