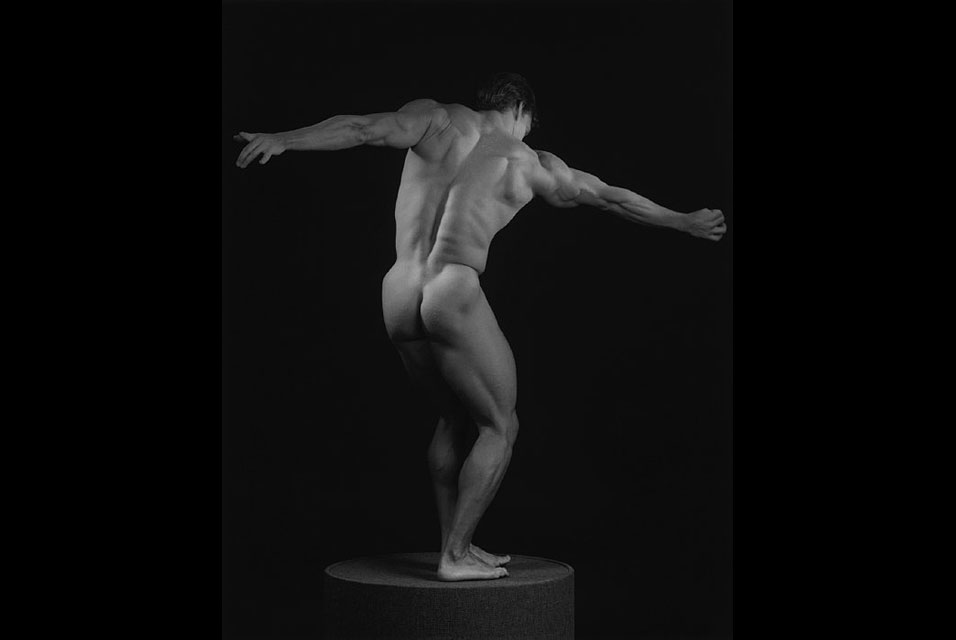 NEW YORK, NY.- Three important photographs by Robert Mapplethorpe (1946-1989) have been donated by The Robert Mapplethorpe Foundation to the permanent collections of the renowned Florentine state museums, the Galleria dell'Accademia and the Galleria degli Uffizi. A ceremony was held today in the city to mark the historic occasion.
Mapplethorpe's "Von Hackendahl" (1985), a study of a male positioned like an ancient athlete, and "Derrick Cross" (1985), a study of the model in a yoga pose, represent the first works by an American artist to enter the collection of the Galleria dell'Accademia and are among the only modern works by any artist. The photographs, which illustrate Mapplethorpe's passion for the human form and his technical and formal mastery, were donated by the Foundation following the success of the recent exhibition at the museum, "Robert Mapplethorpe: Perfection in Form", which featured both. The exhibition, which showcased works by Mapplethorpe in the company of Michelangelo's sculptures and drawings, was the first to be dedicated to a post-Renaissance artist at the Accademia. Due to the popularity of the show during its initial four-month run, the museum extended it by another four months through January, 2010.
The artist's "Self Portrait" (1980) has also been donated to the Galleria degli Uffizi, following a request by the museum to include a Mapplethorpe work in its celebrated Self-Portraits collection. The photograph, which pictures the artist wearing lipstick and a feather boa, is a celebration of his transgressive side as well as a reference to the artist Marcel Duchamp, to whom he strongly related. The photograph will join the world's largest collection of self-portraits, consisting of approximately 1,700 works, which was founded in the 17th century by Cardinal Leopoldo de'Medici.
"Mapplethorpe's appreciation of Renaissance art informed his work throughout his career," stated Michael Ward Stout, President of the Robert Mapplethorpe Foundation. "He would have been honored to have his photographs housed in the collections of two such venerated museums that celebrate this tradition."
"Mapplethorpe's works continue to challenge viewers, both aesthetically and through their defiance of social paradigms," continued Stout. "The fact that a significant number of institutions have chosen to examine the artist's work at this time demonstrates that it remains as relevant today as it did when he was working over 20 years ago."
Mapplethorpe is enjoying a renaissance in his own right throughout the world this year, with exhibitions in Europe, the United States and South America for which The Robert Mapplethorpe Foundation is loaning works. The venues include Museo d'Arte, Lugano; NRW-Forum, Düsseldorf; Museums Sheffield and Towner, Eastbourne, in the United Kingdom; Fondazione Marconi, Milan; San Jose Museum of Art, California; and Museo de Arte Latinoamericano de Buenos Aires.
Robert Mapplethorpe foundation
Robert Mapplethorpe -Wikipedia

Categories
Tags