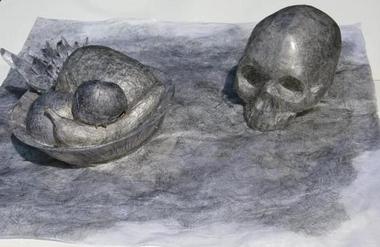 19 Mar 2010 – 7 May 2010
Alexia Goethe Gallery is pleased to present Valérie Jolly's first solo exhibition, "Infra-Thin". Her ethereal sculptures and photographs could either be an apparition or in the process of vanishing, like a lasting impression or a fading memory.
Valérie Jolly's delicate and fragile casts of everyday objects, echoes of the interstices between the object and the world elevate the ordinary and overlooked to the level of a precious artifact […]
[…] They are a cast of the space which lies between the object and the volume of a conventional cast, the infra-thin, the resting place of the gaze, the point where an object ceases to be itself […]
[…] In Valérie Jolly's aesthetically nuanced sculptures we are able to dream between the nano-spaces of the real.
The above is an extract from "A Liminal Mimesis of the Infra-Thin" an essay from 2010 by Richard Dyer for this exhibition.
Jolly casts objects in sticky wet tissue paper and when the paper dries, what she peels off carries the form and marks of the original, only it is colourless and weightless. This technique enables her to capture, almost literally in the sense of "stealing", all the details, even the most minute ones, of the original object.
Her tissue paper sculptures are like a trace, a vaporous evocation of the original. They strive to achieve the impossible, to inhabit the space between spaces, the infra-thin threshold between presence and absence, visible and invisible, material and immaterial, reality and memory, reality and dream.
Materialising that which exists in the interstitial space, Jolly records objects while transforming their relationship with space, time and function. The ethereal nature of her white and graphite toned sculptures challenges our sense of perception and explores the conflict between the physical and the intangible. She invites the viewer to step through a portal and into a space that both haunts and records a membrane existing on the limits of reality.
If her sculptures had an olfactory dimension it might be the faintest lingering of a scent in the air: there one minute and gone the next but powerful enough to evoke the memory or impression of something that in the end feels deeply personal.
Valérie Jolly was born in Paris and lives and works in London. She graduated from Central Saint Martins in 2006 (BA Fine Art). She has shown work in the UK, France, Italy and in the US. In 2008, she was awarded the Royal British Society of Sculptors Bursary Award.
Image:Rubbing (Vanitas)2007Tissue paper, pva, water and graphite pencil in perspex box 60 x 60 x 15 cm – 23.6 x 23.6 x 6 in
Categories
Tags