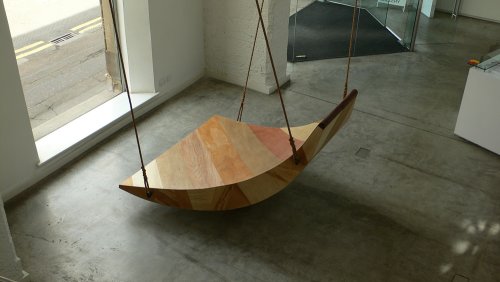 ANDREW RANVILLE – ROOTS RADICAL
Curated by Nadim Samman
20 March – 22 April 2010 Private View: Saturday 20 March, 7-10pm
Are ecology and urbanism mutually exclusive? Is there such a thing as sustainable sculpture? Where does guerrilla gardening meet romantic conceptualism? Provisional answers can be found in Roots Radical.
Following his successful exhibition at Edinburgh's Corn Exchange Gallery – and public sculpture in Gayfield Square, commissioned for the Edinburgh Art Festival – the American artist Andrew Ranville receives his first London solo show.
Ranville's art solicits imaginary leaps, fantastic thoughts of physical agility, daring-do and suspended physics. Often it invites the viewer to move beyond mental gymnastics into 'real' activity.
The sculptures in Roots Radical are built to specification – components include climbing carabiners and nautical-grade rigging. Amongst other things, they resemble subverted skateboard ramps. Elsewhere, they are inaccessible viewing platforms nestled in tree-branches. The artist also creates prototypes for illegal architectural interventions. For example, Future Island is a fast-growing water-loving sapling that – with the aid of a floatation device and an anchor – can be pitched into the nearest canal. Ranville would have us climbing trees like children and scaling roofs like cat-burglars; exploring new vantage points and reclaiming inaccessible space.
Not all the works require such instantaneous action. Future Installation (Grand Fir) brings ecological and aesthetic values together. Collectors each receive a sapling from the artist, which they plant in a location of their own choosing. In due course it grows into a tree. At the time of its maturity, some fifteen years later, the artist will produce a sculpture in it made out of reclaimed timber.
Throughout the show, Ranville combines a high degree of craft with an anarchic agenda. Roots Radical shows us the environment that you inhabit can also be the environment that inhabits you.
Further info at www.andrewranville.com.
HIVE Projects | T1+2 Gallery 8-10 Greatorex Street Whitechapel
t12artspace.com/
www.andrewranville.com/hive/
Categories
Tags