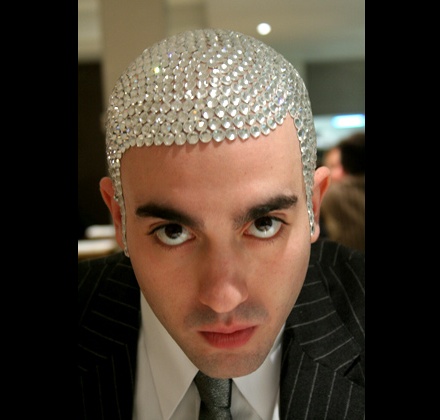 Philip Levine is an ideas man, but beyond this, a man who actually makes his ideas happen. Upon leaving university, Phil was already brimming with ideas to unleash upon the art world, from the obscure to the glamorous. His projects to date have included the likes of using his head as an art canvas (see image) and Musicali-Fragilistic, a fresh and fun club night based upon everyone's favourite musical ballads. Among these however, and arguably his greatest achievement to date, has been the establishment of Lazy Gramophone, an arts collective and independent publishing house he co-founded in 2003 along with Daniel Chidgey and Ben Chidgey. Since the formation of the collective all those years ago, Lazy Grammaphone has gone from strength to strength with the launch of the website in 2004, the publishing house in 2006 and extending into events in 2007.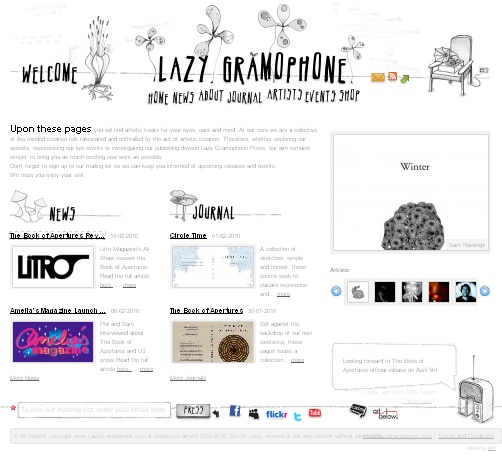 In 2010, the company is a well established artistic hub, providing a service of business support and advice to up-and-coming artists. Talking to Phil about the project it is clear that underlying the structure of Lazy Gramophone is an ethos of genuine integrity.
"There's no ulterior motive like you might find with other arts collectives who just pop up out of nowhere" he explains. "We want to bring people together, encourage collaboration and offer our skills to the people who need them. The aim is simple; to encourage the creation of as much exciting new work as possible."
And the setup seems to be working having already stimulated the launch of artists such as Inua Ellams (currently performing at The National Theatre), Benin City (currently working on 'Year of the Poet 2010' with their band now booked for Roundhouse and Southbank) .
Lazy Gramaphone encourages creativity in all its forms bringing together everyone from, word poets, writers and performers to musicians, DJs and graphic designers. Phil describes the service as a "subtle agency" offering business resources for artists in a non-exploitative manner. "We provide everything an artist might need to move their creativity forward into the business arena which for an individual can often be a daunting and time consuming task. When it comes to anything from buying ISBN numbers to copy editing and type settings for example, naturally most people don't know where to start." As a publishing label, printing and publishing house, events organiser, design house, and e-commerce site all in one, everything is made possible via one outlet.
Testament to their success, Lazy Gramophone has published two extremely well received books, the first of which, Satsuma Sun Mover was Dylan Thomas Prize nominated. April 5th will also see the launch of their latest publication, 'The Book of Apertures'; a collection of short fiction, poetry, and images compiled under the theme of the unexplainable. All of these works have arisen from the combined talent of the collective's pool of emergent writers, artists, typesetters and designers.
As of May 9th Lazy Gramophone will be launching Lazy Sundays, an informal meet-up event for like-minded creative types. The event will be a regular at the Old Queen's Head in Angel, offering a subtle networking environment encouraging creative collaborations to thrive. This is exactly the kind of project that will enable new and fresh talent to emerge in the often seemingly impenetrable world of the arts. Keep up to date with news and events from Lazy Gramophone via their website www.lazygramophone.com
Musicali-Fragilistic
Inua Ellams Interview [Londonist]
Benin City: [MySpace]
Categories
Tags