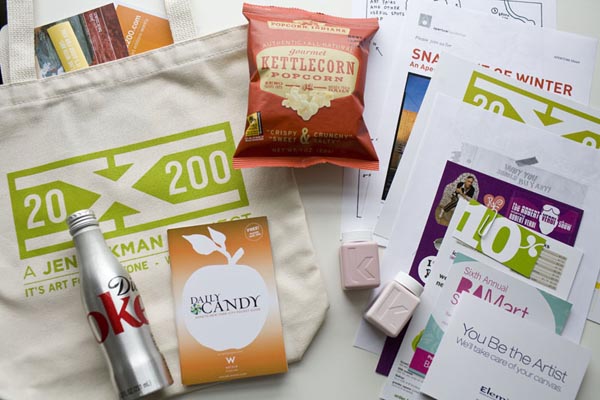 image:Youngna Park
To help keep everyone in high spirits during the NYC art marathon that started yesterday, Jen Bekman and the team behind her online art initiative 20×200 will be handing out survival kits packed with a Daily Candy city guide, artist Jason Polan's clever hand-drawn map, a "Visual Palate Cleansing System" for the visually overstimulated and much more.
Packed in only a portion of the totes, a few lucky fair-goers will randomly receive the "Why You Should Buy Art" limited edition print by William Powhida.
To provide attendees with a personal interactive element, 20×200 is holding a Twitter contest for the tote bag. Simply snap a photo of yourself or someone else carrying the survival kit tote and upload it to Twitter or Flickr with the hashtag #20×200 for a five dollar gift card and a chance to win a $200 print from 20×200. They will also give away bonus prints to people spotted carrying the tote at the fairs.
www.jenbekman.com/
www.20×200.com/
www.jasonpolan.com/index2.html
www.williampowhida.com/
20×200 art fair map
Categories
Tags