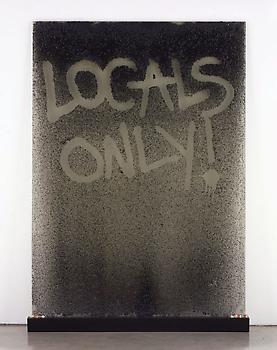 Opening reception for the artist: Friday, January 15th, from 6 to 8 pm
Gagosian Gallery is pleased to present Aaron Young's first solo show in Los Angeles.
Young uses extreme action as generative force; he records the traces of these actions in videos, drawing, painting, sculpture and photographs. The final work of art is often the after-effect of some dynamic, energetic, or even dangerous performance. Young's participants are classic rebels, such as skateboarders and motorcycle riders, hired to perform various stunts on specially prepared supports in spectacular settings such as Greeting Card at the Park Avenue Armory, New York in 2007 and Arc Light at the Red October Chocolate Factory, Moscow in 2008.
In the current exhibition, Young presents a series of life-size glass casts of wrecking balls, crafted in Murano, Venice. These destruction devices are paradoxically fragile, an apt allusion to the transition between aesthetic past and present. Continuing his ongoing conflation of urban culture with the spirit of Fluxus, Young has recast battered iron barricades in gold-plated cast steel, adding gritty titles such as Insiders Say and Various Reports. Paintings stenciled with ominous phrases such as "Beware of Locals!" are made by spraying glass panels with burnt rubber. Young props them casually against the gallery walls. Both the consummate insider longing for notoriety and the consummate outsider longing for recognition, he creates artefacts from live incidents and tangible objects from the culture of alternative and hidden communities, while searching for new and autonomous forms of aesthetic expression.
Aaron Young was born in San Francisco. He graduated from the San Francisco Art Institute in 2001 his Masters of Fine Art from Yale University in 2004. His work has since been exhibited internationally including "Greater New York", P.S. 1 Contemporary Art Center, Long Island City, New York (2005); "Uncertain States of America," Astrup Fearnley Museum of Art, Oslo (2005) (traveled Center for Curatorial Studies, Bard College, Annandale-on-Hudson, New York and the Serpentine Gallery, London); "Whitney Biennial: Day for Night," Whitney Museum of American Art, New York (2006), The Second Moscow Biennale (2007), and "Political Minimalism," Kunstwerke, Berlin (2008). Young lives and works in New York City.
Categories
Tags