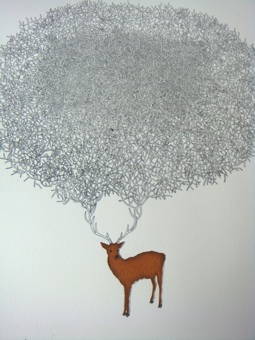 image:Arran Gregory
'Watch This Space' Young and Emerging Artists Charity auction in aid of The Special Yoga Centre
With Special Guest Host Auctioneer: Francis Outred, European Head of Post-War &Contemporary Art, Christie's Tuesday 8 December 2009 Preview & Drinks reception at 6pm Auction at 8pm
Over the past 3 years, The Special Yoga centre has hosted charity art auctions of artworks by some of the country's most celebrated contemporary Artists including; Damien Hirst, Sam Taylor-Wood, Peter Blake, Marc Quinn, Ollly & Suzi and Natasha Law.
The last auction, introduced by Samantha Cameron, and hosted by Gabbi Roslin, raised a staggering £100,000, even more amazing since this event took place in the midst of an economic downturn. A Christie's auctioneer auctioned off some exquisite pieces,including a spot painting and etchings by Hirst.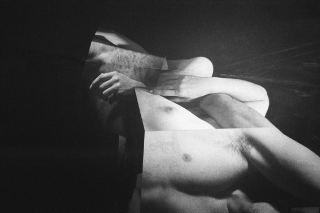 Image:Mathew stone
The success of these auctions was the catalyst for an auction that champions the next generation of YBA's. On November 26, arts organisation 'Watch This Space', who curate exhibitions of talented emerging Artists, will organise the first Special Yoga Centre auction of young artists. This will not only give collectors a chance to discover some hot new artists, and support their practice by purchasing their work, it will also raise much needed funds for the Special Yoga Centre.
Yoga expert and co-author of 'The Spiritual Teachings of Yoga' Jo Manuel founded the Special Yoga Centre in 2004 as a charitable organization supporting children with a variety of conditions, which can be aided by the practice of yoga. Children with Down's syndrome, cerebral palsy, autism, epilepsy, ADD, ADHD and other physical and developmental difficulties all benefit from the expert teaching offered at the Special Yoga Centre, whose policy is to offer yoga to all without regard to financial or cultural constraints. Children from all walks of life, including the late son of shadow Prime Minister David Cameron, have benefited from the care and teaching of the Special Yoga Centre.


Image:Matilda Temperley
Artists featuring in the auction will include; Andrew Campbell, Ann-Marie James, Arran Gregory, Best One, Cereinyn Ord, Daisy de Villeneuve, Ella Johnston, Elliott Young, Epoh Beech, Eugene Wood, Graham Hudson, Ilaria Conte, Izzie Klingels, Jim Cooper, Julie Umerle, Kate Bonham, Kevin Fitzpatrick, Konrad Wyrebek, Lee 'Scratch' Perry & Peter Harris, Lee Jones, Louise Richardson, Mat Pringle, Matilda Temperley, Matthew Stone,
Max Parsons, Monkey Punch III, Niall O'Brien, Nick Cunard, Nick Jensen, Peter Edwards,Retts Wood, Ricky Adam, Robin Clare, Sam Ashley, Sam Szulc, Sarah Cooney, SarahKate Wilson, Sara le Roy, Sky Sharrock, Sohrab, Sophie Baker and Suzie Wright.
Francis Outred, European Head of Post-War &Contemporary Art, Christie's will take the auction. This event provides an excellent opportunity for collectors to discover exciting young Artists. It will also aid the
career of these young Artists (who will receive a percentage of the proceeds), and allow the Special Yoga Centre to continue it's invaluable practice with the aid of the auction proceeds.
Delicious Miller's Gin Christmas Cocktail, sushi from Hi Sushi, fantastic art and a great crowd are sure to guarantee that this is a brilliant and entertaining evening as well as a very worthwhile one.
Committee; Damian Barr – The Times; Jonni Fitzgerald – Fashion Stylist; Lucy Meakin –All Visual Arts; Meritaten Mance – Mance & Rose PR; Tiger Savage – Creative Director, M&C Saatchi; Iram Qurashi – Cultural Consultant; Irshaard Ibrahim – Director of Sleep Clinic; Paddy Barstow – ART MOSH; Rachael Barrett – Kultureflash Art Editor; Sydney Levinson – Rhodes & Rhodes, Rob Keane – Director, Pulse.
The Special Yoga Centre, The Tay Building, 2a Wrentham Avenue London NW10 3HA
Date: Tuesday 8th December, 2009 Time: 6pm – Preview and drinks reception 8pm Auction
TICKETS AVAILABLE BY CONTACTING REBECCA WARD, EVENTS COORDINATOR OF THE SPECIAL YOGA CENTRE: Rebecca@specialyoga.org.uk /020 8968 1900 /www.specialyoga.org.uk
Categories
Tags