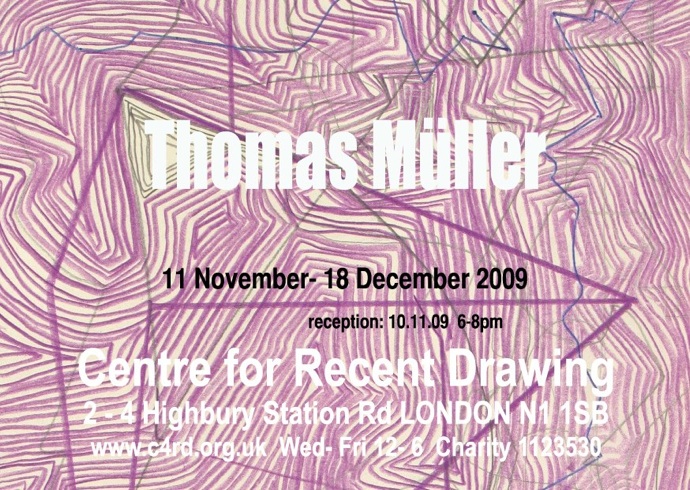 Centre for Recent Drawing presents the first solo exhibition in London of work by international German artist Thomas Müller. Müller works exclusive on paper using a variety of approaches within drawing, returning to group of drawing strategies and marks that then create a network of lyrical association when installed, often to fill walls, using a large number of individual, usually A4 sized, papers. The wall assemblies include gaps in the grid structure, where the bare walls add elasticity and tension which compliment the attitude to space in the paper works. This associative network and incident/non-incident in the hang of the grid can be viewed as another order of drawing beyond the individual paper works. These installations have been seen in various situations including the Drawing Center, NY, the Centres George Pompidou, Paris, and the Chinati Foundation, Marfa.
German Müller's work is included among others in the collections of the Centre Pompidou, Musée National d'Art Moderne, Paris, Deutsche Bank Collection, Kunstmuseum Bonn, Kunstmuseum Stuttgart, Musée d'Art et d'Histoire, Neuchâtel, Museum am Ostwall Dortmund, Museum Kunst Palast, Düsseldorf (Hanck Collection), Museum Schloss Moyland, Staatliche Museen zu Berlin, Kupferstichkabinett, Staatsgalerie Stuttgart, Städtische Galerie Karlsruhe, The Museum of Fine Arts, Budapest, the McNay Art Museum, Texas, The Maxine and Stuart Frankel Foundation for Art, Michigan.
This exhibition coincides with the exhibition of Thomas Müller's work at Patrick Heide Contemporary Art, 11 Church St London NW8 8EE, during November and December 2009. Please join us for the reception for the C4RD exhibition 6 – 8pm 10 November 2009 or during the exhibition 11 November – 18 December 2009.
Categories
Tags