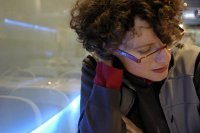 FAD's Adrian Sanders sat down and talked with one of SLICK's founders and owners, Cecile Greismar. A witty, and vibrant woman, Cecile has been at the forefront of contemporary art in Paris for the past four years. Last year, SLICK moved into the 104 building in Paris' 19eme arrondissement ushering a new movement of young, hungry galleries and a potential changing of the guard. Though not in direct competition with other art fairs in Paris, SLICK has created buzz in Paris and internationally. He asked Cecile about SLICK's success and the state of art in Paris.
This is the fair's fourth year in what has been largely considered a wild success, what has made SLICK so successful over the past few years?
>Paris was very late in nurturing the contemporary art market compared to London or New York, but FIAC changed that. FIAC cannot host every gallery, and they have a very clear mission, so there was a real need for a young and entry-level fair for the rest of Paris.
Slick was an obvious project, the atmosphere is good here, the public response is phenomenal and the galleries do very well.
Why do you think Paris has been late? Is it a cultural thing?
>France has enjoyed a system that has worked for a long time, but it is getting old and breaking down. There hasn't been the same impetus to restructure our practices and business with modern times.
Paris suffers because it puts too much into history; youth are blocked from being allowed to take chances. In France, we believe it isn't necessary to dare, to try something out of the norm. Our art institutions can be suffocating, filling are students with theory, psychoanalysis, but in the end, it's empty. It all looks backwards and weighs the youth down.
How does that apply to the cultural institutions and great public funding for arts? Is that also not working?
>Yes and no. Things are moving in Paris, and in the rest of France, but slowly. And most success is met with complaints and dissatisfaction instead of support. It's easier to cry than to try and make things better.
It seems that part of SLICK's success is that it is contemporary but retains some great Parisian qualities.
>Of course like any emerging art fair in any city, it has to be cutting edge, and the business has to be good, but in Paris, things have to be done a certain way. We're Parisians so we understand our communities and our projects always move forward with respect for the people and art community of France.
The 104 is a fantastic space, but far from the city center, has that been a good thing or a bad thing for SLICK?
>I think that for many tourists who are here for the week, they might want to explore outside of the traditional sites, but don't know where to go. SLICK gives them a good excuse to see more than just central Paris. And for many art lovers and Parisians, they come because they trust us and know what we bring in terms of quality galleries and artists.
I think my favorite thing about SLICK has been the surprising amount of great galleries from outside of Paris. Other cities in France don't often get the exposure they deserve.
> Yes, we have fantastic galleries from other great art hubs in France, and a big part of our mission is engaging the whole country of France, not just Paris. We are genuinely interested in promoting galleries because some of the most exciting galleries in France are coming from Bordeaux, Toulouse, etc. They are important to keeping Slick fresh and dynamic.
SLICK seems like a good starting point for a lot of these French galleries, most of which I had never heard of before coming to SLICK.
>For many of these French galleries, this is their first international art fair with exposure to international collectors. Around the world, you don't often see non-Parisian French galleries and it's important for them to take the next step and go travel more. We also encourage a constant change in the galleries presenting works from year to year; this allows us to help up and coming galleries every year.
Do you anticipate SLICK to get bigger and bigger going forward?
>I hope SLICK never gets too big. The prices are low and there's a real sense of excitement here and that's exactly what Paris needs.
We'd talked about how Paris is becoming more and more on par with London and New York, what has kept Paris from being a part of that contemporary culture all along?
>I'm as French as you can get, to the bone I am a Parisian, but I have also spent much time in other countries. I speak German, English and French with a little Italian in the mix. What I see in France is a real blockage in culture with the old regime keeping youth from pushing things forward.
So, France's history and traditions are maybe too weighty on the youth?
> I believe that in life, youth must always triumph. It should be our goal that youth always wins. Someday, some younger, prettier, smarter woman is going to take my place and have an idea that will replace what I've helped create, and I welcome that.
Slick is on until October 26th More info www.slick-paris.com
Categories
Tags