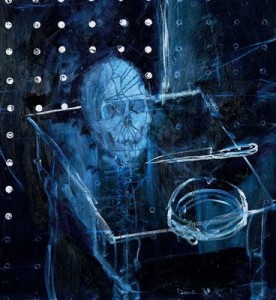 The Wallace Collection
is pleased to announce an exhibition of 25 new paintings by Damien Hirst including two triptychs, being shown in the UK for the first time. 'The Blue Paintings' marks the artist's return to the solitary practice of painting. Created between 2006 and 2008, these paintings represent a radical departure from the artist's established working practice.
Since the start of his career, Hirst has challenged the boundaries of art and what it means to be an artist. 'The Blue Paintings' bear witness to a bold new direction in his work; a series of paintings that, in the artist's words are "deeply connected to the past." Their exhibition at the Wallace Collection, arguably the most intimate national museum in the world, is significant. In contrast to the white walls of a contemporary gallery, Hirst has opted to present these works in a classical context, surrounded by Old Master paintings in the great European tradition at the Wallace Collection.
In Floating Skull (2006), The Meek Shall Inherit the Earth (2008) and Men Shall Know Nothing (2008) Hirst confronts the darkness that lies at the heart of human nature and experience. His ethereal treatment of the memento mori references centuries of art where 'intimations of mortality' are represented by the human skull and symbols of the passage of time such as in Poussin's A Dance to the Music of Time, part of the Wallace Collection.
Hirst's new works engage in a dramatic visual dialogue with the paintings, furniture, porcelain, armour and sculpture displayed in the Wallace Collection's intimate furnished rooms of silk-covered walls and gilded cornices. He said: "I've chosen to show my new paintings here because I love the fact that it is a family collection. It's like a world away from the world. My new works somehow feel like they belong here with other works and objects from other times."
Very few living artists have exhibited at The Wallace Collection. Hirst joins a select group who have been privileged enough to have shown their work at the museum within their own lifetimes, most famously Lucian Freud in 2004. Hirst will exhibit his paintings in the upper galleries leading on to the Great Gallery.
Image:Damien Hirst, Requiem, White Roses and Butterflies, 20081500 x 2300 mm, oil on canvas. Photography by Prudence Cuming Associates Ltd © Damien Hirst. All rights reserved, DACS 2009. Courtesy Damien Hirst and The Wallace Collection
Categories
Tags