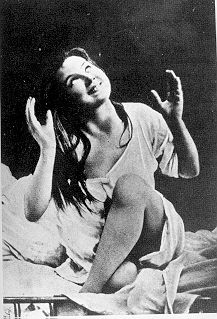 7 October 2009 – 13 December 2009 Curated by James Putnam
Mat Collishaw has created a new series of works for Sigmund Freud's house that include sculptures, projections and site-specific installations.
The exhibition's title, Hysteria, relates to the print that hangs above Freud's iconic psychoanalytical couch depicting the French neurologist Jean Martin Charcot showing his students a woman in a hysterical fit. Charcot (1825-1893) used hypnotism to treat hysteria and other abnormal mental conditions and he had a profound influence on the young Freud. Collishaw has created a new anamorphosis work inspired by this picture and a series of ghostly projections based on Charcot's original photographic case studies.
Collishaw's work often uses visual devices that have their roots in 19th century illusionistic techniques. In the room of Anna Freud, the founder of child psychology he has installed a new zoetrope sculpture with animated figures of imp-like boys smashing eggs, spearing snails and throwing rocks at butterflies. Both Freud and his daughter Anna investigated the development of cruelty in childhood, and it's link to sexuality in childhood 'beating phantasies', but it was Freud who said of his daughter: 'Anna has become downright beautiful through naughtiness'.
Freud also noticed that the cruel component of the sexual instinct also develops in childhood, and cruelty tends to come easily to the infantile nature since the capacity for pity is a relatively later development. In Freud's study Collishaw has installed a series of intriguing tree stump sculptures that incorporate record decks that emit evocative birdsongs. The grooves in the records could be likened to the concentric rings of the tree that record its annual growth and history. In the context of the study, Collishaw's tree stumps allude to theories of repression, loss and the nature of memory developed by Freud.
Hysteria is the latest in the critically acclaimed ongoing series of Freud Museum exhibitions curated by James Putnam that have included projects by Sophie Calle, Sarah Lucas, Ellen Gallagher, Tim Noble & Sue Webster and Oliver Clegg. The exhibition also coincides with the launch of Collishaw's new publication entitled 'Insecticides'. The Freud Museum
Categories
Tags