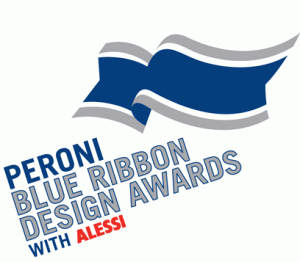 Peroni Nastro Azzurro and Alessi, have collaborated to launch the first ever Peroni Blue Ribbon Design Awards at the Institute of Contemporary Arts from the 30th September to the 4th October, 2009. This national exhibition, open to the general public, will be an innovative display of design items in a truly unique celebration of Italian style.
Alessi, like other Italian design brands, has continually led the way with its dynamic and iconic designs. Alessi products are a hybrid of function and fluidity. They exemplify a firm belief in Italian heritage and style, which, like Peroni Nastro Azzurro, is underpinned by the values of passion, craftsmanship, and creative flair.
The combination of the finest materials, perfect craftsmanship and a meticulous attention to detail, are all employed in the pursuit of excellence by these renowned Italian brands. Whether it's crafting a perfectly balanced beer or developing a unique homeware collection, both Peroni Nastro Azzurro and Alessi have proved themselves as leaders in their field.
For the Blue Ribbon Design Awards, design enthusiasts were asked to create pieces inspired by the authentic Italian occasion of Aperitivo, which combines delicious small plate food with refreshing light alcoholic drinks during the early evening hours of the week as a relaxing prelude to dinner. Aperitivo is recognised as a stylish and elaborate affair, particularly in Milan which is said to be the home of Aperitivo. The exhibition is set to be nothing short of eye-catching with designs ranging from tableware, small furniture and kitchenware, to glassware and gadgets – all pushing the boundaries of product design and innovation. It promises to give you a sneak peak at the future of contemporary living, allowing visitors to experience this authentically Italian ritual, still commonplace in Italian culture today.
Alberto Alessi, responsible for marketing strategy and design management, at Alessi, commented, "I am glad to collaborate with Peroni Nastro Azzurro on the Peroni Blue Ribbon Design Awards, as Aperitivo is an important part of Italian culture and a focus area for Alessi. I am excited to see how the designers will interpret the ritual of Aperitivo and embrace the Italian approach to design."
Following the ICA exhibition in London, the Peroni Blue Ribbon Design Awards will then tour further design venues and style bars across the country, from October onwards. www.peroniitaly.com
Categories
Tags