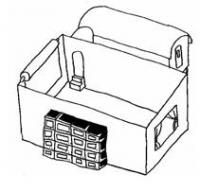 Collectif 1980, "1980 Interactive Mobile Box" Installation Tuesday, from 11 a.m. to 10 p.m.
From Wednesday to Sunday, from 11 a.m to 8 p.m. With the support of the Musée International des Arts Modestes de Sète.
For one week, collectif 1980 will install its mobile box in the garden of the Fondation Cartier and offer everyone the chance to plunge into the world of graffiti. Directions: 1—enter the box, 2—select the environment of your choice, 3—improvise on a green screen, 4—discover your performance on the screens. Through a playful system, somewhere between an installation and a happening, the visitor transforms himself into a virtual street artist in a matter of minutes.
Categories
Tags