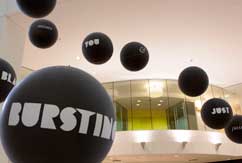 Words Converge – Poetry is like a balloon' British Council Creative Collaboration. Image by James Darling.
Creative Collaboration, a partnership project created by the British Council spanning 18 countries in Europe, including the UK, launches today at King's Place, London.
Following a series of workshop sessions held by the British Council in 2007-2008 creative professionals from around the region were invited to work together to create cross-border art projects between South East Europe and the UK.
Seventeen large and 11 smaller scale projects have now been developed to form Creative Collaboration, these include performances, publications, exhibitions, installations, networks, websites and workshops.
Examples include:
Tales from the Bar of Lost Souls, an inspiring, new piece of theatre produced by the National Theatre of Greece, Cyprus Theatre Organisation and UK theatre company Imitating the Dog which will be performed in all 3 countries by 2010.
Word Express, a series of train journeys undertaken by writers and translators from different countries starting in Ljubljana, Bucharest and Sarajevo and all ending in Istanbul in an attempt to connect countries and areas where political conflict has previously prevented cultural contact.
Lost and Found also explores the concept of creativity in conflict as four female artists who share the experience of creating powerful and passionate performance art within the context of recent war or conflict work together. It will culminate in a performance for the National Review of Live Art in Glasgow, February 2010.
Words Converge, a project using video screen technology to enable poetry and text-based art to be used in a variety of transformative contexts, in public squares, commercial spaces, art galleries, at concerts and at spoken word performances in the UK, Georgia, Israel and Romania will also be unveiled on the 2nd September in King's Place.
Rebecca Walton, Director Arts, British Council comments: "Creative Collaboration is an exciting set of interconnecting projects across countries in South East Europe including Bosnia & Herzegovina and Azerbaijan where British talent will connect with creativity in different environments to produce unexpected results."
Categories
Tags