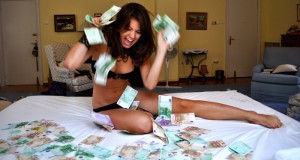 The show Bad Girls go to heaven features a group of international female artists, currently living and working in a number of cities around the world. These artists come from different backgrounds and happen to be at various stages of their career. Their art varies in content, media and style. However, they share a similar approach in their involvement with the subjective picture. There is an element of self portrayal as their work invariably deals with the female body and psyche.
Louise Bourgeois once said in an interview –
"Art is not about art. Art is about life and that sums it up"
. This feeling is quite apparent in the works of this show. One might view them as narrative – describing intimate, sometimes indecent moments.
The embarrassing split-second is particularly poignant in Natasha Law's work. But what these artists share most of all is a like-minded attitude and a free-spirited gutsy voice that negates rules and conventions. A voice cries out against the suppression of childhood innocence in Sarah Ettlinger's current series.
The tensions and strains of human relationships is an integral component of Rachel Goodyear's drawings and Martha Zmpounou's paintings. So, how important is it to express oneself? "ART IS THE GUARANTEE OF SANITY" inscribes Bourgeois in "Precious Liquids", 1991. A self exploration of both past and present is evident in her oeuvre, as it is in the works by Jessica Speckhard and Joanna Imrie. Similarly. Helen Frik explores the hidden mysteries of life with an omnipresent humor. Demeter Razelou offers a new take on traditional, almost lost crafts associated with women, while Alexandra Kollaros visual commentaries employ a candidness that often puts one on the spot. But it would be trite to categorize these artists as feminist, despite their obvious support for women's cause. They illustrate issues, emotions, fantasies that lie beneath the surface and intrigue female curiosity. Perhaps one can discern a smile radiating from this exhibition with reference to a defiant yet hopeful humor.
Featured artists:
Louise Bourgeois, Sarah Ettlinger , Helen Frik, Rachel Goodyear, Joanna Imrie, Natasha Law, Alexandra Kollaros, Martha Zmpounou, Dimitra Giannakakou Razelou ,Sophie Smallhorn ,Jessica Speckhard
Curated and organized by Sarah Ettlinger and Alexandra Kollaros.
An artAZ production – www.artaz.gr
The exhibition is part of Remap2 – the international contemporary art platform that runs parallel and in association with the Athens Biennale.
Location: Iassonos 47, Keramikos, Athens, Greece
Dates: September 2 – October 4, 2009
THE ARTISTS
Louise Bourgeois was born in Paris in 1911 and moved to New York City in 1938, where she continues to reside today. Bourgeois has gained international recognition as one of the greatest artists of the 20th Century, and is considered to be a pioneer and mentor to many female artists. She works with combinations of media – traditional carving methods with text, drawing with sculpture, and found objects with movement that ends as performance. She explores situations and emotions of the present, yet her art compulsively returns to the past.
Rachel Goodyear is a British artist who lives and works in Manchester, England. She has become known for her intimate drawings, most of which have an element of relationship or communication within them, where the balance of power is tense and could at any moment tip either way – playful curiosity can just as easily become sadistic torment.
Sarah Ettlinger is a British artist who lives and works in Athens, Greece. Her art explores the undercurrent – layer, skin, stereotype, preconception – what lies hidden beneath. The child figures, in her current series, invoke the mischief and awkwardness of childhood while revere its beauty, innocence and spontaneity. At the same time she reminds us the adult point of view is ever present.
Helen Frik is a British artist who lives and works in Amsterdam, Holland. She works in a variety of media – installation, painting, drawing and sculpture. She creates associative scenes wherein the mysteries of life are presented as if they were to be simply unraveled. Her work appears straightforward, commonplace, but at the same time something is bubbling under the skin.
Joanna Imrie is a young British artist based in South Africa. Her preferred medium is hand drawings and paintings, often portraying female universes in a simplistic way yet with an unexpected twist of dark humor and violent suggestions.
Natasha Law
Natasha Law is a British artist based in London, England. Her signature paintings of semi-nudes work as snapshots of the intimate. Alternating between the traditional genres of nude and portraiture, Law's lines exalt an almost intoxicating essence of femininity.
Jessica Speckhard
Jessica Speckhard is a young American artist, currently based in Athens, Greece. She creates interactive art across a broad range of media and always remains interested in people as her subject. Her work can be defined as a psychological exploration.
Alexandra Kollaros
Alexandra Kollaros is a Greek artist based in Athens, Greece. Her work is highly suggestive and self referential. She makes extensive use of contrasts, bold elements and literature to pass across subtle – or not so- messages though her work.
Martha Zmpounou
Martha Zmpounou is a Greek artist based in Thessaloniki, Greece. Her artwork deals with the concepts of intimacy and estrangement, experienced under the prism of the constantly fluctuating relationship between private and public space. The consequence is the formation of microcosms that potentially sum up our desires.
Demetra Giannakakou Razelou
Demetra Giannakakou Razelou is a Greek artist based in Athens, Greece. She creates sculpture made of solid paint, transforming the medium itself into an artwork. Her work is a comment on the everyday experience, characterized by irony and an evident sense of humor.
*
The exhibition is under the auspices of City of Athens and with the support of the U.S. Embassy in Athens.
Categories
Tags