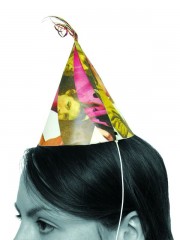 Saturday 29 and Sunday 30 August 2009 12.00 – 5.30pm
This year's Spiral is inspired by the work of Camden Arts Centre's current exhibiting artists, Johanna Billing and Alexandre da Cunha. It takes as its starting point the strange codes of conduct and rituals that we often take for granted in everyday life. During the weekend, visitors of all ages will be invited to take part in specially commissioned projects by artists Fay Nicolson, Annie Davey and collective They Are Here, designed to unmask the habits and behaviour we see around us each day.
Activities and performances will include:
A chance to make your own film – form a film crew group, sign up and get shooting.
Produce a guide to human behaviour – design your own publication on our production line and use it to record what goes on around you.
Share your genius – sign up for the demonstration stage and share your skill, knowledge and experience in a two-minute talk – anything from how to do a head stand to the best website for holidays.
Ceramics wheel – try your hand on the ceramics wheel in our unique ceramics studio.
Visitors are invited to come and create their own art works, enjoy the Café and garden and sample all the gallery has to offer during this annual summer festival.
Admission is free, and all events are drop-in.
Categories
Tags