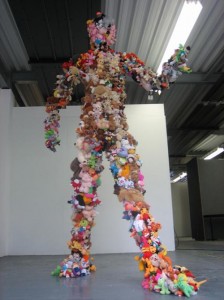 Self Portrait by Robson Cezar
31st August – 11 September 2009 Exhibition open 10am – 6pm (and during evening events) Evening events run Tuesday – Friday only both weeks:1-4 September and 8-11 September 8.00pm (doors 7pm)
Additional information can also be found at:www.salonlondon.co.uk
SALON (LONDON) is a new arts collective inspired by non-traditional spaces and inter-disciplinary collaboration and is dedicated to showcasing the UK's most innovative and inspiring up-and-coming artists. The first ever SALON (LONDON) project will, for two weeks
only, take over a vacant commercial office building at 295 Regent Street. The former music workshop will house a group art exhibition by day and performance events by night.
Drawing inspiration from the 'salon' ethos of education and entertainment, both the group exhibition and the evening performance events showcase a range of artistic disciplines: painters,photographers, film-makers, installation artists, comedians, dramatists, writers, and poets will come together to tell a unique, yet coherent, story.
SALON (LONDON) is the brainchild of Crystal Bennes, who has spent the last six months organising the pop-up project. The artists featured have been curated from the past five years of UK degree shows and the various performers are some of the most exciting and innovative in
their respective fields. Inspired by a DIY ethos and the emerging culture of alternative spaces in the arts, SALON (LONDON) is very much a collaborative effort in order to present audiences with accessible yet thought-provoking work in a unique and surprising environment.
As such, the SALON (LONDON) project is also a reaction against unity of form: against restrictions in theme and disciplinarity. Curator Crystal Bennes comments: 'in showing and performing in an alternative space, we are able to confront the traditional notions of space to explore new
possibilities. At a transitional moment when the economic recession has demanded a new kind of creativity, we aim to generate excitement for new possibilities in sharing and promoting contemporary art.'
THE SALON (LONDON) pop-up project promotes the temporal, emphasising the experience: we hope that our audience finds not only creative inspiration, but also a sense of empowerment and
furthermore, a desire to recreate new and reinterpreted versions of this event.
SALON (LONDON) Artists are:
Valery Lippens's interest in documenting life's most mundane moments in a unique way is expressed in his beautiful images of commuters at St Pancras International Station;
Robson Cezar's surreal sculptural work exists as an expression of "dar um jeitihno" – the Brazilian notion of "finding a way."; Inspired by fairy tales and feminist theory,
Bulgarian artist Lora Hristova confronts female identity and sexuality with her whimsical installation;
Painter Tessa Whitehead creates with countless layers of paint her delicate large-scale images inspired by changes in weather and light;
American artist Lisa Smithey creates powerful sculptural interventions which reflect her investigations into literal as well as invented landscapes;
Rosemary Hogarth explores traditional notions of femininity with her beautiful, yet often grotesque, paintings of women;
Derived from her experiences growing up in Northern Ireland, Gemma Gallagher creates large-scale paintings reinterpreting the aesthetics of war through the Romantic literary aesthetic;
Working in oils, painter Andrew Hollis transforms the mundane and anonymous into moody, atmospheric, almost iconic representations;
Alexandra Valy explores the pain, anxiety and uncertainty of modern-day life through her symbolic, aesthetically polished installation pieces
Performers include:
Whimsical raconteur and comedian Terry Saunders;
Tom Chivers will be reading from his new collection, 'How to Build a City';
Tag team Phil Gilbert and Jacob Edwards of The Sunday Defensive crack us up with their character comedy and classic double act banter;
One of The Times's Top Ten Literary Stars of 2008, Ross Sutherland, brings his one man show to SALON (LONDON);
Youngest ever nominee for the 2007 Forward Poetry Prize, Luke Kennard will be reading from his recently published third collection, 'Migraine Hotel';
Flash fiction story-teller Emma Hughes will be regaling us with participatory storytelling;
Romantic themed improv group,The Four Gallants, put on a night of Byronic comedy;
Andrew Dawson performs his Space Panorama, a recreation of the Apollo 11 moon landing,;
Quickly climbing up the comedy ranks for their surreal, physical sketches The Three Englishmen present new work;
Darlings of the independent publishing scene, Meat Magazine will be curating an evening to launch their 8th Issue; Additional performers TBC.www.salonlondon.co.uk
Categories
Tags