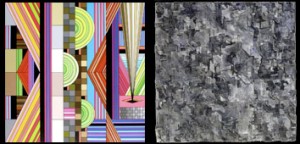 Elms Lesters Painting Rooms announced an exhibition of new works by American painter James Marshall, aka DALEK, and Dutch artist Boris Tellegen, aka DELTA, both masters of the art of handling colour and texture, and both at pivotal points in their careers.
Growing up between Chicago, Japan and New York, James Marshall, after having spent a year as an assistant to Takashi Murakami, has developed and honed a technique of meticulously applying flat blocks of colour, whilst playing with exaggerated shapes and baffling optical perspectives.
His background as a street artist left a decisive mark on his approach to painting, and his most recent compositions challenge the idea of space and perspective, sucking the viewer's eyes in a vortex of hallucinatory topographies. Pushing the limit of making any logical sense, the images are at the same time communicating a sense of tidiness and control.
The art historian Ben Jones says: Two changes in technique have recently allowed DALEK to ratchet the spatial complexity up a notch. In linear terms, there's an increased overlapping between forms whilst, in colour terms, subverting the light-to-dark or conversely dark-to-light build-up of tonal depth by interjecting chop-change colour values at will across the picture plane to break up conventional recession "
Pioneer of the graffiti movement, Boris Tellegen, aka DELTA is constantly experimenting with complex architectural paintings, collages and 3D sculptural wall pieces, discovering, through the use of colour and references to urban decay, how to play with perspectives by using the build up of textures and shadows.
His work is reminiscent of the old Utopists and Constructivists and is a portrait of industrial architecture and urban detritus.
Boris Tellegen organically breaks down the composition, his work resulting in an openness which at first seems antithetical to the precision of the graphic underpin used, subverting the reassuring geometrical system to create surgically precise and unrealistic new shapes and 3D objects.
"Thinking back to one of his street pieces, with the moss proliferating and gradually covering the relief, helps point up in a rare natural example a key conceptual theme for DELTA throughout: the organic system and its threat to subsume the man-made." Ben Jones
James Marshall b. 1968
DALEK paintings are brightly coloured and were originally populated by Space Monkeys, creatures inspired by the artist's childhood and teenage years in Japan.
His most recent paintings have metamorphosed into incredibly complex abstract works, emphasising his meticulous attention to detail and amazing sense of colour and composition.
DALEK's work has been widely exhibited internationally, and he has recently spent a year as an assistant of Takashi Murakami, probably the most famous artist in the contemporary art scene;
Relocated in North Carolina, James Marshall, aka DALEK, is developing his artistic production, still maintaining his work as vibrant, young, raw and energetic as before, yet attaining a refined sophistication.
"I have always been interested in art although I was never any good at it. I never really tried painting until I started college in 1988 (VCU in Richmond, VA). I took a few art history courses and messed around a bit with abstract paintings… but that was really about the extent of it. I didn't get into graffiti until 1993 when I was living in Chicago. Although I had messed around with tagging, if wasn't until '93 that I started painting walls and came up with the tag name DALEK."
Boris Tellegen b.1968
DELTA became one of the pioneers of the European graffiti movement, in 1984, when he made his tag DELTA for the first time, a revolution moment for all the writers, introducing the 3D approach.
His work shows the hallmark of his time at the Faculty of Industrial Design at the Technical University Delft, from where he graduated with a degree in Industrial Design Engineering in 1994.
The first DELTA tag appeared on the streets in 1984: through the years this Netherlands based artist has developed a complex and unique style that resembles isometric plans and plays with ideas of architecture and high tech futuristic vehicles. Boris Tellegen introduces an alien and idiosyncratic aesthetic into graffiti art that escapes the common logo-like word IDs. He has influenced writers all over the world for decades with his 3D letter style.
His fine art paintings and sculptures have been exhibited in Singapore / Malaysia, London and Italy. He has also produced work for musicians such as Linkin Park, Dj Vadim (Ninja Tune), Rima project on Jazzanova Compost Records, Dub Records and Alex Cortez.
An internationally acclaimed contemporary artist, he skillfully experiments with a variety of mediums in order to create his amazingly intricate paintings, prints, 3D sculptures, video works and installations.
DELTA has exhibited with Elms Lesters Painting Rooms since 2003 and his first solo show solo show in UK "DELTA – The New Dutch Master" took place during June 2008.
Categories
Tags