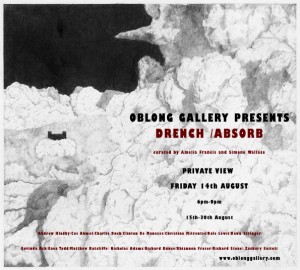 Drench / Absorb, two opposites both Mental and Physical. Oblong gallery, 6pm-9pm, 69A Southgate Road, N1 3JS. Curated by Amelia Francis and Simone Wallace, an exhibition which brings together 15
selected artists showing photography to sculpture and installation.
Andrew Hladky , Cos Ahmet , Charlie Duck , Clinton De Menezes ,Christina Mitrentse , Dale Lewis , Dawn Stringer , Govinda Ash ,Gaea Todd , Matthew Ratcliffe, Nicholas Adams , Richard Bunce,Rhiannon Fraser , Richard Stone , Zachary Saitoti.
Categories
Tags