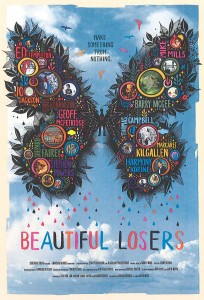 Featuring some of the most influential artists of today, BEAUTIFUL LOSERS tells the inspiring story of likeminded outsiders who subvert convention and inadvertently become leaders of popular culture. It follows eleven individuals who developed their various crafts in the undergrounds of NYC.
This group and their non-conformist ethos have now become a
movement in itself that is transforming sub-culture and shedding new light on mainstream America.
BEAUTIFUL LOSERS addresses the issues of 'growing up' and draws upon the cultural and economic diversity of America. The film invites the viewer to share the passions of internationally acclaimed 'artists' who followed the Do-It-Yourself mentality.
Their love of skateboarding, surf, punk, hip hop and graffiti developed into their own artistic creations, making art and film that reflected their personal lifestyles which in turn created a unique innovation where freedom of expression was key.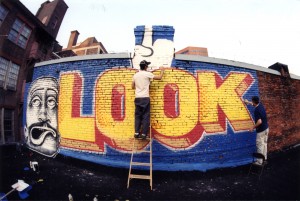 **OFICIAL SELECTION** South By Southwest Film Festival 2008
Edinburgh International Film Festival 2008
Filmmakers Directed by Aaron Rose,Co-Directed by Joshua Land,
Produced by Rich Lim John Barlow,Music by Money Mark, Beastie Boys
FEATURING
Thomas Campbell, Shepard Fairey, Jo Jackson, Chris Johanson, Margaret Kilgallen,Harmony Korine, Geoff McFetridge, Barry McGee, Mike Mills,Stephen Powers, Ed Templeton
Release Date: August 7 2009
Official Website: www.losermovie.co.uk
Watch the film at the ICA from the 7th till the 24th
Buy the DVD on the 24th also
Watch it at a festival of street art Nuart in Norway at the cinema SF-Kino on Friday 11 and Sat 12 Sept NUart09T
Review (Time Out New York)
Review(NME)
Beautiful losers on the couch (Independent Newspaper)
Exhibition inspired by the film (DIY London seen)
Categories
Tags