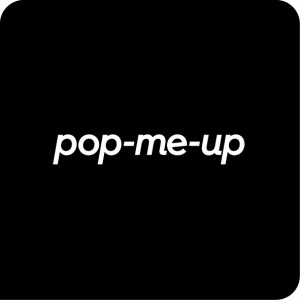 the third week of This Is Why We Meet, participants from Camberwell College of Arts are Carl Guilhon, Chris King, Joel Stephens and Philip Li. They are currently producing a unique pop-up advertisement agency called: 'POP-ME-UP'. Part-performance, part-entrepreneurial – they will base their office from the Wieden + Kennedy's window, selling advertising spaces to the public, external companies, organizations and artists. For £1 a day, you can advertise anything you want. you can follow their own blog here; www.thisiswhywemeet.com
At the private view you will be able to buy an advertising space of your own
Previous weeks :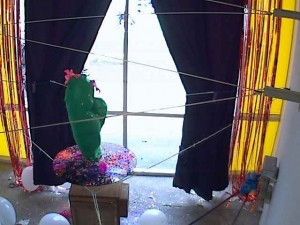 YOU TURN US ON is an interactive invention created by 4 Chelsea College of Art graduates.
A high-camp Miami beach scene (complete with tinsel palm trees and a full pastel colour swatch) frames the phone number you 'Freephone to Play'. Every few minutes this madcap cam device jumps and jives in the window demanding the attention of passers-by.
When the freephone number is dialed, the curtains in the opposing window slowly part to reveal a complex system of pulleys, ropes and bicycle wheels. Balloons filled with paint and glitter are attached to the rope which bobbs around the web of pulleys towards a big, felt and very sharp cactus. BANG! The glitter is released and the curtains return to close.
This decidedly Heath Robinson contraption is reactivated when the number is dialed again by another member of the public.
READ THE DIRECTIONS AND DIRECTLY YOU WILL BE DIRECTED IN THE RIGHT DIRECTION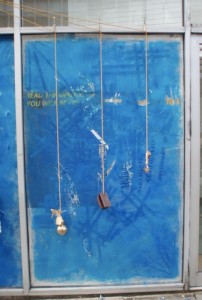 Three shoe makers and a costume desginer from LCF may sound like the start of a joke, but their tactile and multilayered installation is not to be quaffed at.
They have used latex, PVA glue and tape to build up layers of colour and texture directly onto the window's surface. Using rope and carabinas they have suspended a range of bespoke and utterly surreal tools at varying heights (crafting them themselves from leather, glue and other clever cordwainer techniques).
The audience is encouraged to use these tools, and their hands, to remove layers of the window thus revealing a video screen which displays an image from inside the window opposite. In this way, the audience on either side of the road are temporarily facing one another, temporarily engaged in eye-contact, temporarily confused and genuinely enthused.
MORE info:THISISWHYWEMEET
Categories
Tags