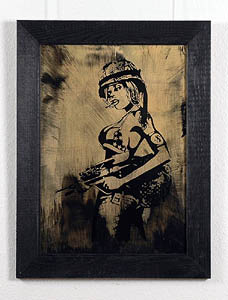 Rourke van Dal
URBAN AFFAIRS extended, presents in this second edition, an International selection of world renowned Urban and Streetart artist. Following the motto of the exhibition name this year, numerous external artistic projects, Galleries and institutions are invited to a new exhibition space in an reappropriated Berlin Swimming pool, with over 2,000 square meters of space available. The focus is on the reunification of Urban and contemporary art, interactive performances site specific works
with the utilisation of public spaces.
The festival brings together a young generation of artists who have choosen a new artistic path –
how to negotiate today's urban environment. Urban and Streetart has become widely accepted
worldwide within arts and culture. Exhibitions such as the Backjumps, Nuart or the Streetart
Exhibition at Tate Modern in London have demonstrated the high artistic level of two young artistic
styles represented.
To create a new international platform and present a wider horizon of contemporary urban art, we
developed with the Urban Affairs a modern and successful exhibition concept. The first Urban
Affairs experienced over 8,000 visitors from all over Europe. In response to this success a new
selection of talented and world renowned Streetart and Urban Art Artists will present their skills at
the Urban Affairs: Extended exhibition. At presnet our focus remains on Europe exclusively, but we
are working with projects outside of europe such as CIUC Festival, Muralismo Morte and a look
beyond the borders.
The Berlin Streetart phenomenon, which has been embraced thouroughly by the city is already
being incorporated into the strategic planning of the Berlin Tourism development, along with
everything else. Numerous exhibitions, publications, debates, media reports and Auction records
show the broad potential of Urban Art and Streetart.
artists:
1010 , ALIAS ,ANTON UNAI , DDG , EL BOCHO , EMESS , MASSMIX , MEAN MAREK , MYMONSTERS,
NEON , NOEL , NOMAD , NEROMONGA, SAM CREW,/ SP38 , TIKA, VECTORIAN , WOW THE DEAD,
ZONENKINDER
events:
11/07 Secret Wars
18/07 Nomad Performance
After PARTY
19/07 RYC + Überdose Lecture
Muralsimo Morte Lecture
24/07 Video Weekend
25/07 Auction by Arts+Advise
After PARTY
31/07 Finissage
Closing PARTY
projects:
Urban Love Tour / Nomad, Influenza, Abner
CIUC Festival / Canary Island
Pavillion Double / Mode2, Delta, Sharp, Eron
WALLBREAKERS by Modart / Peter Fuss, Nils
Müller, Roa
Muralismo Morte / Jens Besser
MASSMIX / VlepVnet
Graffiti Wall / interactive graffiti experience
Tape Art by Klebeland / El Bocho
Categories
Tags